You may think this way,
Sometimes it disheartens you,
As long as you pick yourself up again,
Or let other's do it for you.
Times can be tough,
On the outside it looks fine,
No one may know,
But it can wear on your mind.
Let those mean people drift,
They are not worthy,
Surround yourself with happiness,
Find love and support somewhere else.
It is there, somewhere,
You just have to look,
In places that you wouldn't think,
Like a lost book.
When you do,
The light will turn on,
Life will look so differently,
It may scare you at first.
Say goodbye to it,
Embrace the new,
Those old feeling still may haunt you,
But you now have a better view .
*Sharing my poem with Prose for Thought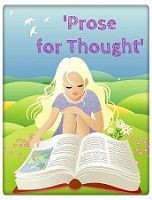 I made it to the MAD BLOG FINALS: Please take a moment and vote for Let's Talk Mommy for Best Baby Blog & Best New Blog! Just click the badge below!

It's awards season in full swing. If you have another few moments, I know it's a lot to ask but please vote for me in Fresh Voice, Social Media and Writer categories or any others you think I may fall into. I appreciate all the love & support!