It's the final phase of planning Missy Moo's 1st birthday slash christening party. The clock is ticking and we are only a few days away from the big day. I am just finishing off the last few bits of planning, checking, and delegating. Here I share with you the fun part: the decorations!
Making Birthday Decorations!
I made a bunch of things from scratch as I always think it makes the party that much more personal and a matching theme. I love a good matchy matchy party! I choose peach, silver, and white as my colors because it is a double party for her 1st birthday and christening. I thought the colors worked well not just together but for both celebrations. Then I struggled to find actual decorations with these colors so I resorted to making them all myself.
1st Birthday Letters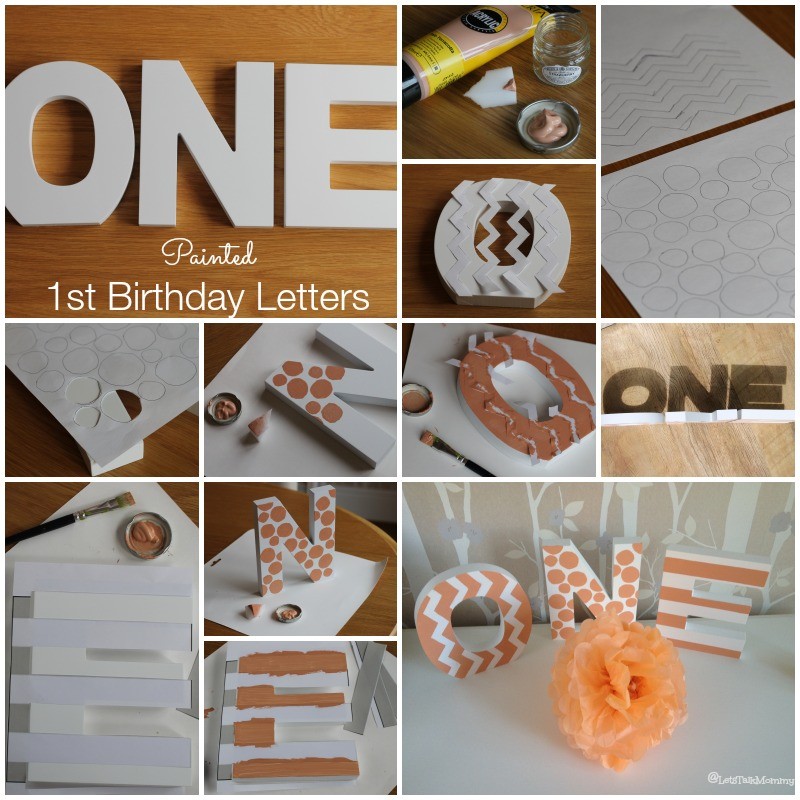 For the 1st birthday letters that will sit next to a framed collage of photos of her first whole year, I bought already white painted O, N, E letters but you can paint wooden ones white then do your design on them after. I choose chevrons for the O, dots for the N, and stripes for the E, obviously. I love the various patterns together. Make sure your letters are free standing if you want to set them on a table like mine.
Step 1: Draw or print out design pattern, tape stencil to letter to prevent movement. Google has tons to choose from.
Step 2: Paint your design with chosen theme color.
Step 3: Peel off template before it dries so you can easily scrap off any paint that leaked underneath.
Step 4: Let dry over night.
Step 5: optional: Glue a bow or add glitter for more bling.
Birthday / Christening Bunting
It was hard to find any birthday and christening bunting that remotely matched each other. So I decided to buy bunting for a background and add the letters and color myself. I bought these silver chevron bunting from Style My Party. They have amazing party decor. You could also make your own if you prefer.
Step 1: Buy or make your bunting, busy patterns for the background are ideal. Use ribbon and tape your bunting triangles to it.
Step 2: Using a cup or circle stencil, trace circles out on the color card you prefer. Solid card is best.
Step 3: Print out the type of font you want to use and cut out letters.I printed on white card but you can print on any pattern or solid color paper you want, to match your theme. I just google 'bubble letters'.
Step 4: Glue the letters in the middle of the circles.
Step 5: Glue the circles to the center of your bunting.
Tassel Garland For Parties
This was my first time ever making these, and there are a few things I would do just a little differently. So I will share with you what I did and what I would do, next time. Learn from my mistakes but I was still proud of the overall look of garland.
Step 1: Fold tissue paper in half, in half again, and one last time.
Step 2: With the fold at the top, cut strips up to about an inch from the top. *see photo above
Step 3: Unfold width way, and cut ALL the way down the middle. Refer to third and fourth top picture.
Step 4: Unfold your two separate pieces length way.
Step 5: Roll middle of one, and at the end twist the rolled middle. Refer to bottom right photo. Do this for the other piece too.
Step 6: Make a loop with your finger and using a glue gun, glue the loop closed. Don't burn your finger!
Step 7: String on a long piece of rope or ribbon, whatever you want to display it on.
** Things I would do differently, I used crepe paper for the dark peach to give a different texture and the metallic to give it some bling. I found these very thick and hard to twist without ripping the loop. Stick with normal tissue paper.
There are also other ways to tie your tassel to your ribbon or rope instead of using a glue gun and sliding it on. I have seen some on Pinterest that just twist it right to the rope or ribbon. I think I would attempt this, next time, so it stays perfectly spaced in between tassels. Whereas with mine I have had to keep the ribbon straight so they stayed spaced. I can't half moon it like most people do for parties as it all falls into the middle, bunched together. Only two things I would do different. Otherwise, it was quick and easy to do!
Along with these, I have made peach, silver, and white pom poms, balloon weights, confetti, table centerpieces, and 12 month photo collage. The party decorations are ready to go!
Other last minute touches for the party
Shopping: Everyone's outfits have been laid out, grey tops for the men, a white dress with peach necklace for me, and a gorgeous peach dress for the birthday girl. The family has to match the party after all!
Music: The ipod touch is full of disney music, ready to plug into the sound system at the venue. Even Frozen is downloaded, can't have a birthday party without a little Frozen.
Delegate Duties: Friends are on the music, on the photography, on the helping decorate and clean up. Never try to do it all on your own or you won't be able to enjoy as much of the party as you think. My advice: delegate, delegate, delegate!
The best part about making all my own decorations is the cost. It's so much cheaper to do it yourself. I also went to the pound store and bought all my supplies which means it cost me next to nothing for all of this. You would be surprised how many craft supplies there are in a pound store.
If you missed the part 1 & part 2 of planning Missy Moo's 1st birthday party, check them out below. Stay tuned for the actual party and cake smashing photo shoot! I can't wait and I hope you can't either!
Part 2: Booking It & Making Invites
Cake Smashing Photo Shoot: Stay tuned
* As to not confused everyone, her real birthday isn't until June 26th, so I will be spreading out the christening party, the birthday party, and the cake smashing photos over the next few weeks. Can't age her faster than she is already ageing herself. But wanted to share the planning leading up to her party as I have always loved planning parties. I hope I have inspired ideas for your little ones next celebration or a celebration of your own. All my tips and crafts can be tweaked for a great adult party too!