A trip to the Czech Republic can be one of your best ones, with a good itinerary, excellent company, and plenty of time. If Prague is on your agenda, prepare for the most wondrous cityscape and authentic corners to explore. However, historical sites and important establishments are not the only things Prague is known for!
We suggest making a few stops during your strolls and trying out the best of their streetfood, and believe us – there are plenty to choose from. So, check out the list of the very best meals and places to eat to enjoy the Czechish delights.
Strudel
The authentic Austrian meal is actually quite perfectly executed in the Czech Republic, as well. Many vendors in Prague offer the tastiest version with fresh ingredients and very reasonable prices.
However, the best place to enjoy a Strudel is at Havel's Market – a shopping space known for its top-quality ingredients and street food right in the center of the Old Town. So, not only will you get a taste of the Austrian delicacy, but you also get a lovely setting to enjoy it!
If you are a real foodie, try out Strudel here in Prague, then take the high speed train from Prague to Vienna, order one there, and compare the two. Now, which is better?
Pizza
Long walks and tours can be exhausting, so you might get famished real quick. Try Johnny Pizza in central Prague for a warm, full meal that will keep you good for the rest of the day.
Their delicious, melting-on-your-tongue pizzas are modeled after a model from New York, so similar to there, they sell it by slices. This might not sound like a lot, but two or even one piece will kill that hunger and keep you energized long after. There is nothing lavish or extraordinary about it, but the Czechs are proud of the way their street food pizza works for anyone, and they even offer some exciting recipes, along with the classics.
Chlebicek
Quite a mouthful, right? No pun intended! More commonly known as the traditional Czech Open Sandwich, Chlebicek has been around for a very long time and now is served as the perfect, fast street food in the country.
Ridiculously cheap and highly available, the sandwich is probably the best meal for you if you are rushing from one tourist site to another and only have time for a quick bite. Most locals always have the ingredients ready at home for whenever they want a snack, so there are plenty of food vendors out there in Prague streets as well.
Liberske Lahudky deli is located right next to the National Museum in Old Town and serves the best Chlebicek in the city with fresh ham, veggies, and other toppings. 

Liqueur Ice Cream
Tasty, colorful, and a bit boozy, the liqueur ice cream is unsuitable for kids but should be a lot of fun for adults!
While the Absintheshop in Prague's city center is usually associated with Absenth itself, their ice cream has nothing to do with solid tastes, visions, or heady effects. However, they do sell dessert that has some liqueur in it, but nothing so strong to influence the rest of your day. It only adds a little sparkle to it!
There are plenty of your usual flavors and toppings. On a hot day in Prague, the ice cream is refreshing and fun, so make sure you stop by during your tours. Enjoy and try out this unusual and exciting delicacy, and have fun on the rest of your trip.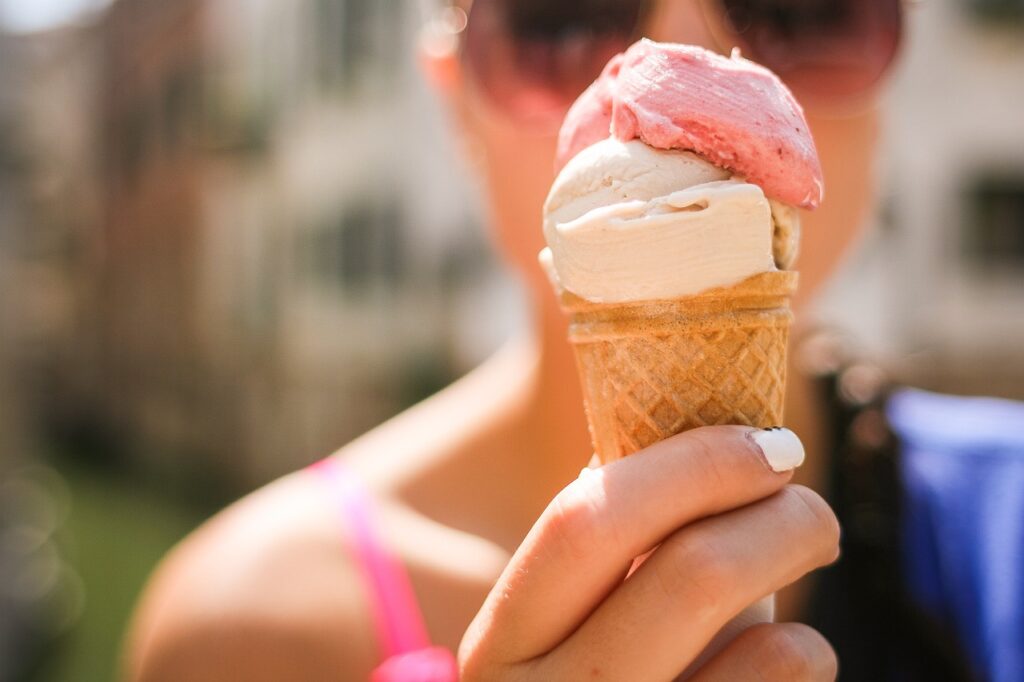 Trdelnik and Coffee
After an unusual trip to try the Absinthe Ice Cream, let's get back to the basics. Trdelnik is the most famous and traditional sweet in the Czech Republic, with plenty of restaurants, cafes, and street vendors to offer it.
Pair it with a hot, steaming cup of coffee, and you get yourself a delicious afternoon snack, or even breakfast, if that works for you. Keep in mind that most of the Trdelnik and Coffee shops are located in Prague's Jewish quarter, as people say that this part of the city explicitly provides the best desserts and fresh coffee.
So, stop by while visiting, and buy a latte and something for that sweet tooth – each in one hand as you carry on with your explorations. 

Satisfy your inner foodie with these top street foods in Prague, and kick off your 2023 vacation with a wild ride to the Czech Republic! Of course, see their restaurants for fuller and more extravagant or traditional meals, but enjoy these stop&go delicacies as well. Dobrou chut, or enjoy your food! 

*collaboration