April, my dear April, how good and bad you were to us. This month has been one emotional roller coaster for me. The beginning of the month I said goodbye to my mother visiting us. I am awful at goodbyes and it's hard for me to have her be so far away from us. While we made the most of her being here it's never easy to keep explaining to the kids where Grandma's has gone and why she can't come back over to play.
This month we also headed to France to visit our friends that live there. We usually go every year to see them and their two beautiful daughters are the same ages are ours so it's always a great trip. While we still had an amazing time, B got sick and ended up in the doctors again not at severe as our last France visit but nevertheless it didn't make this one any easier. With a severe throat infection he didn't eat or hardly drink for days. The skinny kid that he already is I was so worried about him. Added on top of Mr P's coughing from the last six weeks or so and MM's chest infection prior to France we haven't been the healthiest family lately.
So the end of April, we said goodbye to you and look forward to May throwing us back in the ring, healthy, happy and full of more adventures to come. My brother is visiting next week for the first time ever and we are off to Spain to visit some more friends. Let's just hope there are no more illnesses to plague us all for awhile.
Mommy is loving…
Getting back into buying real books and sitting down to read more.
All the traveling we are doing at the moment as a family.
Kettlebell workouts on youtube.
Daddy is loving…
Being on the golf club team again.
The sun that has been visiting us more lately.
His manly new firepit in the back yard.
B is loving…
Kids magazines (a recent discovery).
Learning Spanish with his nursery friends.
Trains and cars galore.
MM is loving…
Traveling with us and being on family adventures.
Her new pigtails.
Her very first bike (that she has mastered and yet B still can't ride).
Together we are loving…
The quality time together abroad.
Our upcoming two months in America.
Family visiting us more than ever this year. (Grandma & Uncle R).
Moving the kids into big kid rooms.
Playing outside in the sunshine more.
Oh my two children really do look the part this month of pure misery. I swear they do smile all the time but lately, if I bring the camera out the smiles fade quickly. This month's captures show just how NOT impressed everyone is to be taking our family captures. But to me they are still memories together, they are still captures that tell me a story about their little personalities at the time the photo was taken. It's a glimpse into our normal everyday life of two toddlers and the things they don't like or do like.
Each month, I say I don't know how we got to the end of the month already but this month I do know, our social calendars, on top of work calendars, and doctors appointments this month have been out of this world. And it's nowhere I am exhausted and feeling like I blinked and it was all over with. I don't mind if the months feel fast as long as we are making the most of it and keeping busy on our family adventures together.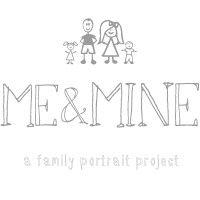 I absolutely love this project and capturing my family. I love that it motivates me to capture us each month and I also know that I will cherish all these family portraits forever. I am excited to be sending you over to the gorgeous creator and host of Me & Mine, Lucy at Dear Beautiful. Please stop by and see her very first Me & Mine of five!!! Bump watch included!!!!
Don't forget Me & Mine has amazing perks for linking up. Each month one lucky family will WIN a photo prize from PhotoBox. I wish you all good luck and thanks for joining us in celebrating family portraits everywhere! I look forward to reading them all over the next few weeks.
We have been shortlisted for the #Bibs2015 Video Category, would love your VOTE here please!