February is a short month so why does it feel so long this year? I swear I feel like we have been in February forever now. It's hard for the time to move along when your cooped up inside for most of the month but we have been making the most of the last week of this month with the sun finally coming out. There have been beach visiting, outdoor bike riding, play ground attendance, and exploring nature. We have changed our bad gloomy weather attitudes to a exploring family attitude this month. We are looking forward to Spring hitting us with her presence and beautiful blooms.
Mommy is loving…
The lighter evenings, giving more time to photograph food.
Her first ever girlie holiday (which she is on as we speak).
Flowers in the house.
Daddy is loving…
Golf (It has to said, he is obsessed).
Playing soccer with the kids.
Our beach visits and outdoor adventures.
Buba is loving…
Drawing in the sand and dirt with sticks.
Collecting seashells on the beach.
Counting to 100 in a sing song voice.
Missy Moo is loving…
Saying new words everyday.
Eating plums.
Dancing in music class in front of everyone.
Together we are loving…
Being silly as a family like playing airplanes.
Going on family adventures.
Eating out together.
Learning a new language.
Our February didn't hold much exciting news to share. We made the most of what we could on the days it wasn't lashing it down or hailing. I have a feeling March is going to get spicy for us, the sun seems to be out more, longer days, lighter days, and we have Grandma here too from America!!!! Hip hip hooray! I can't wait to share with you all.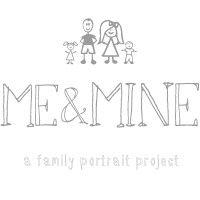 I am loving being a part of the Me & Mine team, it's such a great project to get involved in and motivates you to capture your family altogether each month. This month I am sending you to the stunning mastermind behind this project Lucy at Dear Beautiful. Please go have a peak at her gorgeous bunch who are always laughing and having a great family time together.
Don't forget Me & Mine has exciting perks to share for linking up. Each month one lucky family will WIN a photo prize from PhotoBox. February has another amazing photo cushion up for grabs so everyone that links up is in the drawing! Good luck and thanks for joining us in celebrating family portraits everywhere!
It's Friday and do you know what I am doing this very moment as you read this, I am driving with your beautiful host, Morgana and we are off for a girlie spa weekend away with our amazing friends DearBeautiful and MummyDaddyMe. To say I am excited doesn't classify it close enough. I have never been away from the kids this long and on a girlie holiday either minus a very pregnant me at bachelorette party in Amsterdam. We won't go there. Blogging has changed my life and I have made some life long "real" friends in the process and I am forever grateful for it all. I have been looking forward to this weekend for A VERY long time.
So while I drive across England here is my #littleloves for this week.
Read
This week has been jam packed full of good blog reads and I wish I could list them all here. I have read over 250 blog posts (phew*) this week alone and amazed at how many great posts are being written each and every day. If I had more time to read and comment on more I would. My book days are few and far between and I love finding a blog I love because it's never ending. There will be more posts and more to look forward to. Here are a few recommendations for a good read!
Honest Mum - I Am Not Super Woman
Bump To Baby – My Better Place
Capture By Lucy – Wishes For My Eldest Son
Not A Frumpy Mum – Why I'll Never Be Outstanding
Heard
Once again it's my voice on MumTalkTV sharing my home decor haul! Would love you all to stop by and comment and let me know what you think of my recent home accessories!
Watched
We just started the very first series of "Suits" and have the entire box set to work our way through which will take us awhile but so excited. I am loving it and it's definitely a great show if you like detective, lawyer type shows!
Wore
I have been wearing new makeup and a new beauty look. After finding my must have mascara, I also introduced myself to a makeup shopping spree in Mark & Spencer no doubt. A place I never thought to scope out new beauty products but raving about them so much already.
Made
I have been baking up a storm for my lovely ladies this weekend and while there is no recipe to share here is a sneak peak at some goodies for our trip.
And lastly…
I am so excited that in just a few weeks my momma will be here and I can't tell you how amazing that will be. She is coming over for her 60th birthday celebrations and we are surprising her with a special Mother/Daughter trip to Venice, Italy. I can't wait to spoil her and hug her and have coffee and cake like normal moms and daughters do. I can't wait for the kids to play with Grandma and not just see her in a laptop on FaceTime. I get emotional and teary just thinking that she isn't closer to be more a part of our daily lives. We are going to make the most of the two weeks she is here and I can't wait to share it with you all too. My Momma is amazing!
Linking up to Butwhymummywhy for #littleloves
We have only lived in our new build for a little over three years now and it has been completely transformed since the day we moved in. I am constantly redecorating rooms, styles and changing our home decor around. The spare room furniture has been moved in about a hundred different ways and combinations trying to capture the best lighting for my dressing table and still leave the room function-able and classy.
I need a space to do my hair and makeup just like the rest of us and while in America we tend to always do this in our bathrooms, your bathrooms here are not equipped with sockets so dressing tables seem to be the common route to go. Although I can say the first two years living in England I did my hair and makeup in front of a body mirror leaning against a wall while sitting on the floor in front of it. I have had numerous dressing tables and the one below was a lovely present from my mother for my 30th birthday that I thought was beautiful. I love anything shabby chic and grey. Looks aren't everything though especially when it comes to a dressing table.
I had to move it against the wall so I could share a photo with you but it normally lies right in front of the window to maximize space and natural light for me to get ready at. While it's a lovely dressing table (I am so grateful to receive) it lacks storage and space. The shiny surface is extremely very hard to get makeup off of if you spill or your brushes are set down. Cleaner just takes the shiny surface off too so it's no good for cleaning.
At the moment, I have used an old jewellery box without the lid as my brush holder. I usually have beads at the bottom to hold them up better but my kids kept trying to eat them. I have been thinking lately I might paint it all white, but worried the shiny surface won't hold the paint and I don't really want to sand it all down. I would love bigger drawer space so I can have more of my stuff locked away safe from little fingers. And more table top space to put my hairspray, brushes, blow dryer on. At the moment they are a pile of mess underneath it that I don't dare share with you. This dressing table works for me, for now, to get ready at and it holds sentimental value from my mother but if I was reviewing this I would say it doesn't tick all the boxes. As you can see below I can barely get anything in or out of it already.
I have been loving makeup more these days and my taste have blossomed into other brands and various makeup looks these days. I have shared my love for M&S beauty counter this week and my new found lust for Younique lashes too. It keeps bringing back to my dressing table and what I need to do to create more storage, and space for all my new purchases.
For now, my dressing table area works for me and will do for some time but I do long for space and more storage and a surface that isn't easily damaged by my use. This beautiful white wooden one below is ideal. You can hide all your blow dryers, curling irons, straighteners underneath the top and have all that storage for makeup and products at the side and still close it and have room for your perfumes and hairsprays on top! Now that's what I call a good dressing table. Looks simple but provides you with all that you need!
Check out other dressing table options I have found on Pinterest or follow my Dressing Table board below. There are so many inspiring looks and ways you can set up your dressing table. It really is hard to just fall in love with one look or idea here. I have changed my mind about a trillion times already on what would work best for me and be comfortable and beautiful at the same time.
Where do you get ready in your house? Do you have a dressing table? Would love to hear your storage solutions for makeup and beauty products below!
Follow Let's Talk Mommy's board Dressing Tables on Pinterest.