What better person to test out the family restaurant Hickory's Smokehouse in Southport than an American living in the UK. I got to take my family this past weekend to try their American cuisine and check out their establishment. Let's just say it's more than a just a family restaurant.
Upon first impressions, the entryway outside has a gorgeous welcoming beer garden with modern lights and decor, inviting you in. I can't wait to come back in summer time when it would be a pleasure to sit out here or on the modern lit deck too. They have fun colorful mailboxes lining the fence that the kids thought were the coolest thing to play with when we walked up.
We were next warmly greeted by a host that welcomed us as we walked pass a large American movie popcorn machine. It instantly took me back to my childhood at the theatres. It wasn't just for looks we had a warm, fresh bag served to us by our waitress the moment we sat down. Talk about a bonus point for the kids as much as it was a great snack while we looked over the menus.
The menu did not disappoint either. There were a variety of dishes you could pick from your all American burgers to steak & fries, mac'n'cheese dishes, baby back ribs, southern chicken, chilli dogs, and other southern classics too. We will talk about those tasty starters and desserts later below too.
The biggest thing for us as a family with a little one with severe allergies is they were more than geared up to make a tasty, delicious meal off their menu for B. They have a tablet with a list of allergies for each item on the menu. They ensured us B's food would be made on a separate area of the kitchen to avoid any cross contamination. There are not many restaurants yet geared up this way in the UK as it is more popular in the states to do this. It's a huge bonus for us to go to a family restaurant and feel relaxed that B is being taken good care of as we would with his food at home.
We were impressed with their fun drinks menu as much as their food menu too. It wasn't just about beer and wine or soda choices. There was endless concoctions of lemonades, ice teas, milkshakes, and the biggest surprise, we will be back to enjoy another time, was the bubbles. Most chain restaurants don't have Veuve Clicquot on the menu, which is our favorite champagne, guess that's just one more bonus point for this restaurant. But since I am pregnant, I went for the amazing lemonade choices while hubby had a beer.
The kids got to coloring their chef hats immediately while finishing their popcorn. Then it was puzzles and more coloring on their placemats, keeping them entertained while hubby and I were taking in the fun decor all around us. Each corner was well thought out and brought that southern American home feeling right to the UK. I was highly impressed felt like I was at my brother's house, who lives in America down south. The kids also got a special surprise when the waiter showed up with two red balloons with their names on it. Talk about spoiling the kids, they already want to go back.
Oh my, the Raspberry & Mint Lemonade was worth every slurp and a huge mention here. Hubby kept sneaking sips as his beer wasn't as beautiful and tasty as mine drink. He clearly was jealous of my choice. I have to say if I wasn't at the end of my pregnancy and lacking space in my stomach, I would have drank about four of them. I want to try all the other flavors next time.
As I mentioned above they had some fab American starters but I have this thing for American Pretzels especially as we were just in Walt Disney World Florida and ate quite a few.  I have been craving them every day since we got home. I may have squealed when hubby read Garlic Butter Pretzel as a starter option. Thinking I didn't want to be too greedy, I was silly and offered to share one with hubby. Don't share them, get your own. They are mouth watering, fluffy, warm, delicious goodness. I know that's not even proper english but in my state I think I might have to pull out the pregnancy card one night and make hubby drive back to Southport to get me one.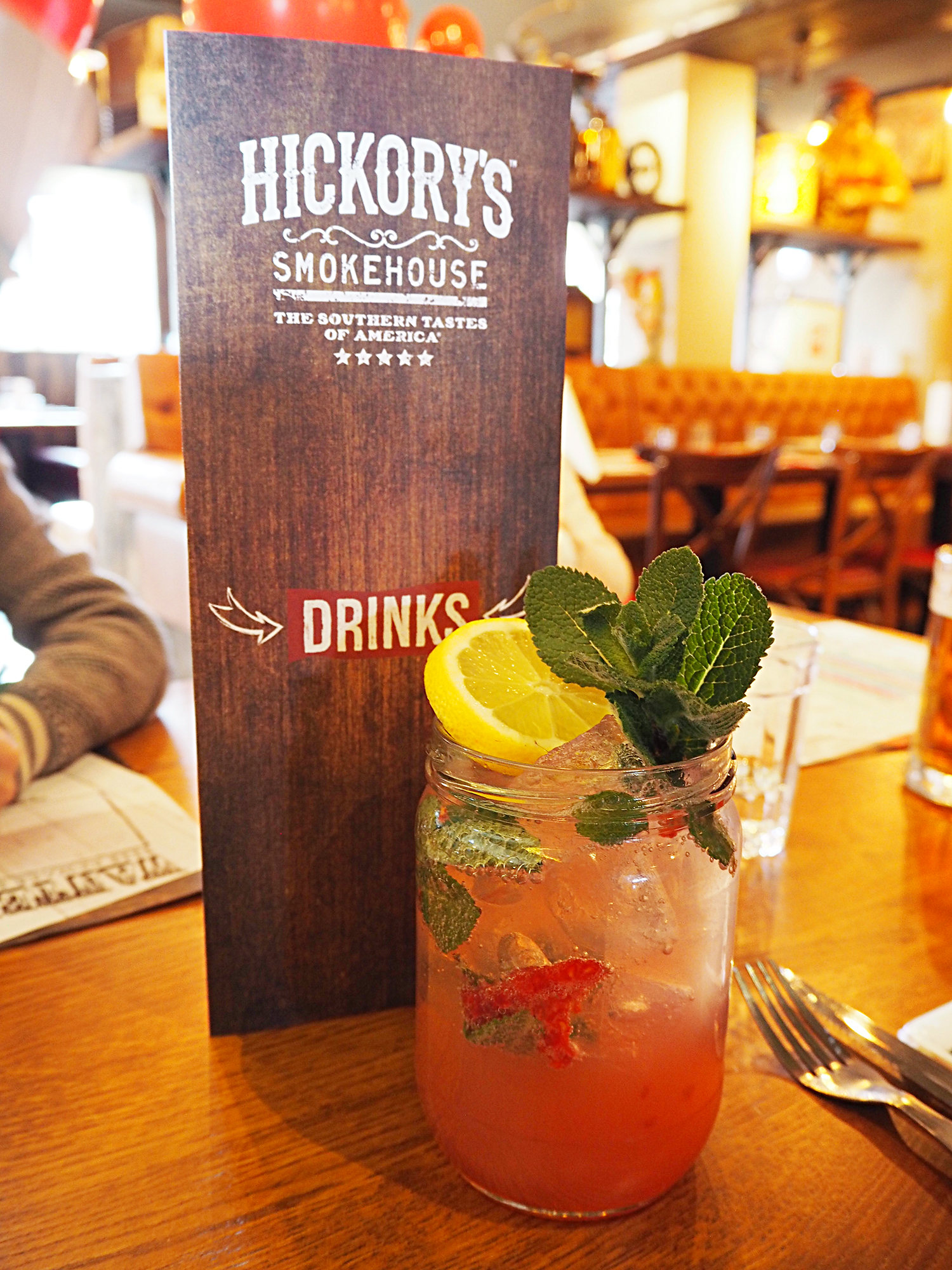 B opted a kid's burger with fries and vegetables. MM opted for the same as brother, always having to be the same as him. She is his little shadow, it's so cute. While Daddy and Mommy, fought over their American Pretzel as a starter, Daddy opted for cajun steak, corn on the cob and fries and Mommy went for the classic bacon, cheese burger to bring out those American childhood memories. It was served with delicious cole slaw, fries and corn of the cob too. It definitely was an American treat and they even arrived with mini American flags on them. I may have squealed again along with the kids who were spinning them in the air shouting, "Mommy it's your flag".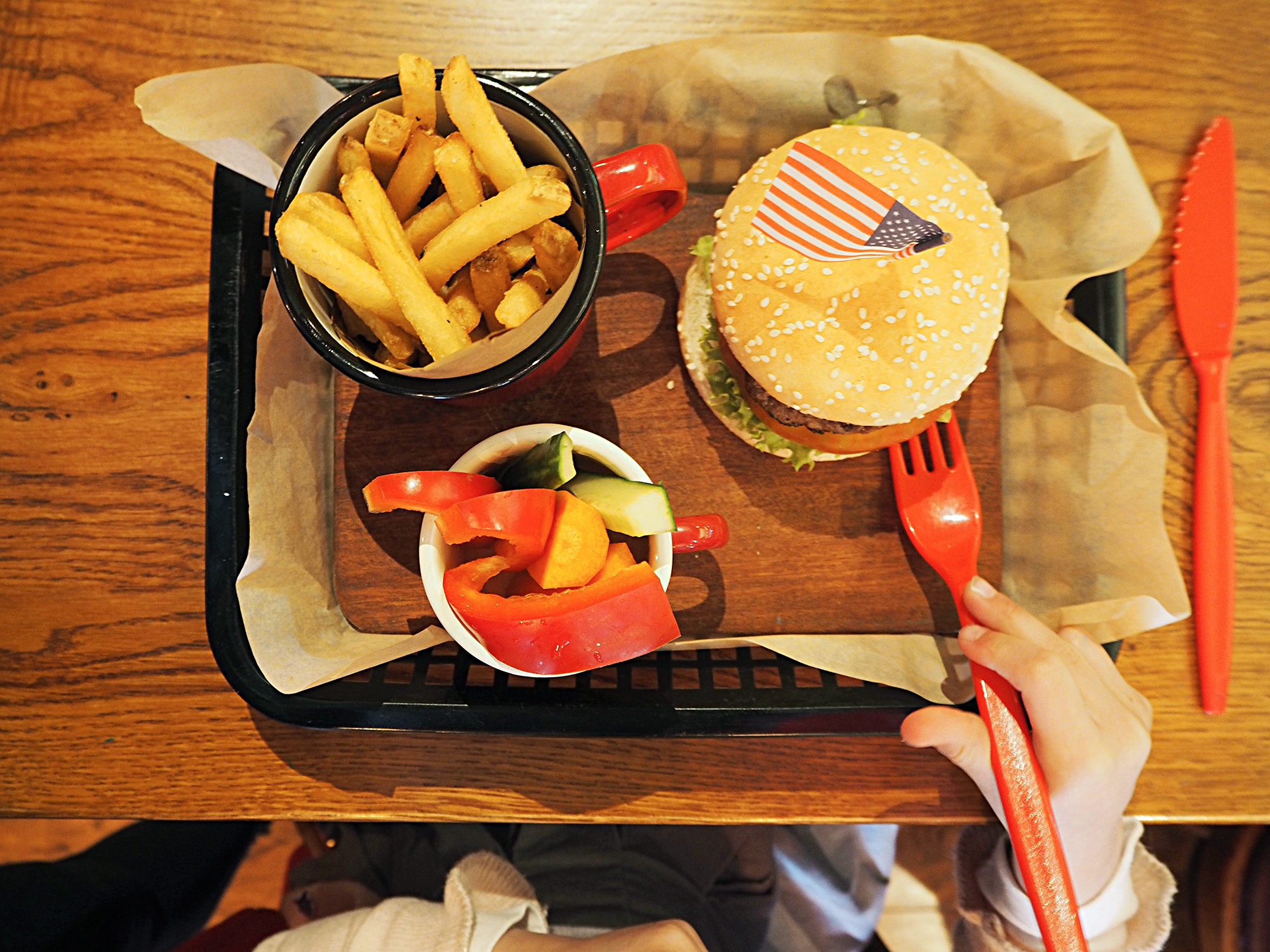 What do you do when you are full of a hearty American classic, enjoyed some coloring, given a balloon and made your own chef's hat??? Well, you go to the movies. Wait, this is a restaurant. We were just as surprised and impressed as you are when we saw this sign with showtimes of the movies that play in the mini movie theatre – JUST FOR KIDS. I was kindly told upon checking the place out that there were "no adults allowed" by a teenager. Ooops. Just wanted to peak, the kids were glued to Free Birds while we were there. It was only a few feet from our table and the staff check on the kids regularly too. So Mommy and Daddy enjoyed another drink together and drooled over the milkshakes going by. We couldn't decide on a milkshake for dessert or going for the Frozen Custard.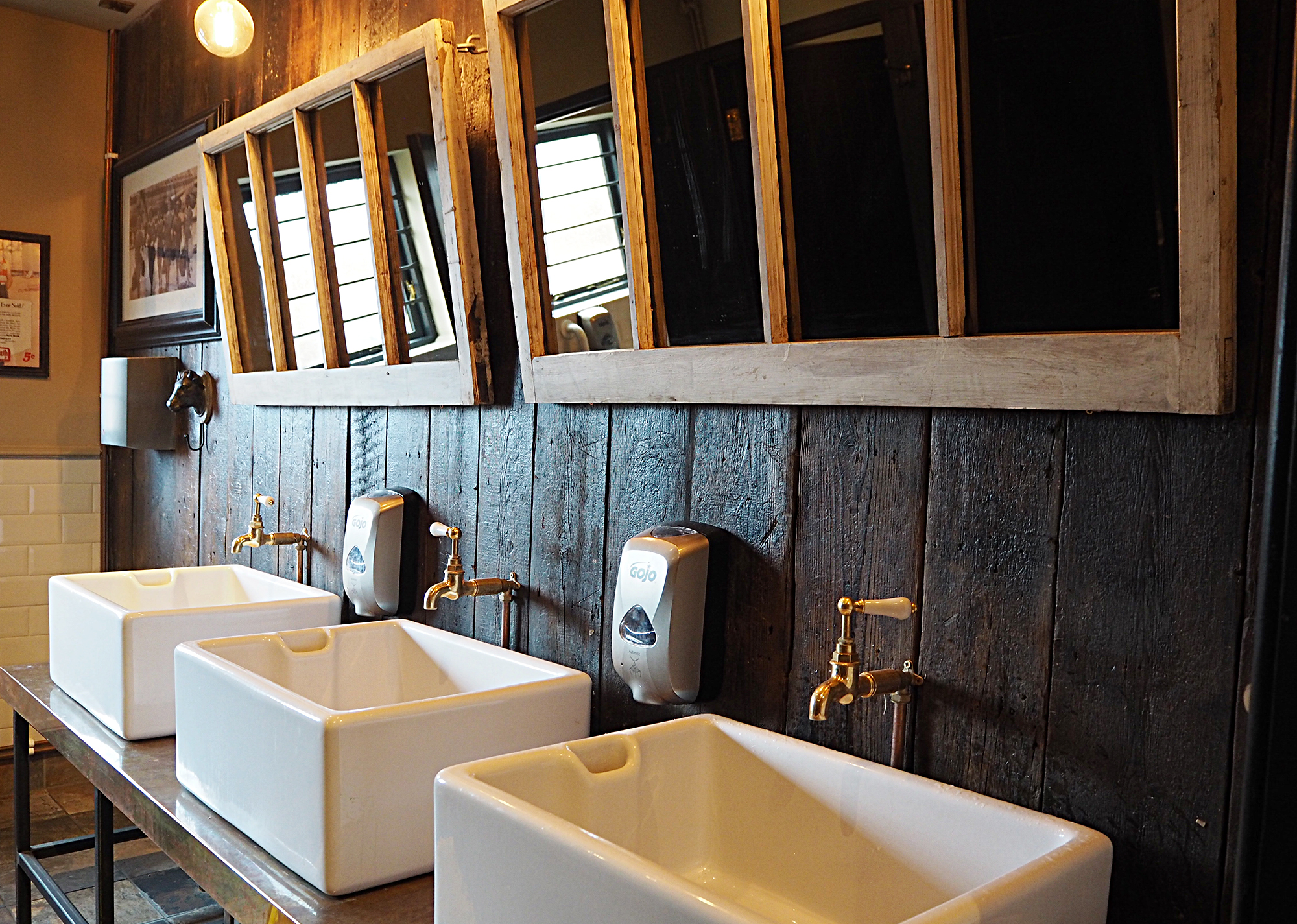 I mentioned the decor being perfection in every corner. They had windowsills lined in between areas with all the various hot sauces. I love hot sauces from the south. I took my time going through which ones I have had before and which ones I wanted to try someday. Yes, I even took a photo of the bathroom. No, I don't do this at every restaurant but I absolutely loved the southern charm and style of the ladies restroom there. (men not sure if you got it as good in yours). It reminded me of my parents house a little bit. I love the rustic style. The kids thought it was cool to have sinks sat on top of the table.
Also walking around the adult areas of the restaurant, the bar looked amazing where many were sat having a milkshake with a friend not just an alcoholic drink. We kept saying if only there was one of these where we lived there would be a line out the door to get a seat! We also saw a table with a fireplace in the middle that you could sit around and eat at. A great one for families with older children or going out with friends.

It's now dessert time. The kids big meals have settled and they are ready to test out the Frozen Custard counter. It wasn't just about ordering and eating dessert but they got to actually create their very own. A restaurant that gets the kids involved like this is a smart one.
Let's face it, younger kids get bored eating out and sitting still for long periods of time while adults chat away and take their time with drinks and food. Even though it's a family lunch out, it's normally order your food, hope it comes quick so kids are taken care of and then eat and go. But what I loved the most about this place was it was anything but just a restaurant. It was an experience for us all. We were as much wow'ed by what was there as the kids were.
The kids eyes just about lit up when I told them to look under the sprinkle dispensers and see all the fun sauces they could put on top. My eyes lit up when I checked on the allergy tablet and B could have the custard, chocolate sauce, and the sprinkles. All safe for him so he could feel like his sister and have a dessert. Most desserts aren't safe for him so it was nice that there was an option (the fun option too) for him to have one too.
Even Mommy and Daddy felt left out and decided to go for the Frozen Custard counter themselves. What can I say, we are big kids at heart. The staff were having a good laugh at me and my baby bump getting up on the frozen custard counter to put my sprinkles and caramel sauce on top. 
It was a Sunday family day out for us. We had planned on going to the botanical gardens, the train village as well as our lovely family lunch out to make a day of it in Southport. We woke up Sunday morning, there was snow covering the ground. But we weren't going to let that stop us so we quickly booked some family bowling after lunch just down the road from Hickory's Smokehouse. If we would have known how much fun the restaurant had to offer it would have been just as amazing having family lunch and worth the drive to Southport.
The kids keep saying they want to go back to the "movie restaurant". We couldn't agree more, hubby and I already scoped out the breakfast menu and it looks beyond amazing. American breakfasts are my favorite… it won't be long we will be back to try that out too. It's a perfect family restaurant with so many various parts to it, definitely worth a few visits.
Would love you to check out what else we did on our Southport family day out and see the restaurant come alive too below. Don't forget to subscribe so you don't miss another vlog in your inbox, new upload each week.