I have to say July has been an absolutely amazing month for us. While we are so sad Daddy has gone back to the UK and isn't here with us for the rest of the summer, we are making the most of the sunshine and family around us. There hasn't been a day where the sun isn't blistering down on us, we aren't visiting extended family and close friends, swimming, and baking in Grandma's kitchen, and so much more. There is so much to do here and so many places to take the kids, we can never get bored. The kids really respond to the great outdoors and fresh air.
We have had numerous family days out, hiking up to waterfalls near my parents house, many playdates with friends' little kids and younger cousins' kids, and we still have a few more weeks to go. Summers here are busy and full of adventure. I know my two are probably too young to remember this year, here but I am looking forward to a time where they hold our summer memories in their childhood memories forever. Where they can recall how much fun we have every year at Grandma and Papa's house. I hope on the last day of school every year they look forward to getting on that plane to be here for the summer.


It's amazing to have the sun blasting down on you every day for a whole month. It really soaked into your bones and makes every one more happy. Although I have been struggling how to take good photos in such bright light, that's a lesson I should have mastered before I got here. Next year, I will be more prepared.
This month it didn't feel right taking our family portraits without Daddy in them. I am sure Daddy is quite happy to not have to suffer through them or be bribed this month but I look at them and feel a little emotion for him not being there. I am missing him as much as the kids are missing him this month. Six weeks is a long time to be apart and actually the most we have ever gone apart since meeting in Mexico, eight years ago. It will be the last time we are ever separated so long as next year we will only be here a few weeks. So this year is an exception but doesn't make me miss him less. I miss his daily, "how did you sleep" or a kiss when he walks by me or his cuddles goodnight. Technology has kept the kids and I seeing Daddy every other day which I am so grateful for and we have a few more weeks but then we will all be together again.

TOGETHER WE ARE LOVING…
The daily sunshine and hot weather.
Swimming nonstop even after dinner until bedtime.
Exploring the mountains, waterfalls, lakes and rivers.
Baking in Grandma's kitchen.
Going to the beach, each week with friends and family.
Spending so much time with Grandma and Papa.
Always having various extended family visiting and hanging out with us.
Never being bored or having to stay inside all day.
TOGETHER WE ARE NOT LOVING…
Daddy not being with us and missing him so very much.
(apologies of my grainy iphone photos of us)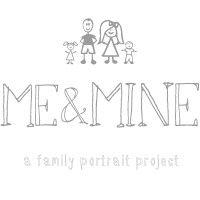 This month I am sending you to the fabulous Katie at Mummy Daddy Me to see what her beautiful family of four have been getting up to. Her adventures are always as vibrant as her beautiful photos. Go have a peak.