As we approach the end of March, I can't believe how fast the time is going. Our plans over the last month has kept us so busy I honestly don't know where all the days have gone. It helps that my mom has been here for most of it from the states. Thursday will see her back off to the states which makes me so very sad and emotional but I am grateful for this time we have had and the amazing adventures we have experienced together.
It's not only the me who has loved having her here this month, the kids have had huge smiles and squealing voices everyday since she got here. It's always great to have Grandma around for the whole family.
Mommy is loving…
Grandma being here
Grandma being here
And the kids having Grandma here
Daddy is loving…
Golf (it has to be said)
The longer days and lighter evenings
Playing outside with the kids
Buba is loving…
Wearing 'sweater' pants (as he calls them)
Baking Easter cookies with Grandma
Loving his new trains
Missy Moo is loving…
Her new baby stroller
Singing and dancing
Playing with Mommy's hair

Together we are loving…
Daddy taking off time to spend with family
Baking up a storm with Grandma
Taking the slide out of the garage and playing outback
Going to parks with Grandma
Visiting the garden centers (really is a place for us all)
I really can't believe how fast this first part of the year is starting to go and it will be summer time in the states before we know it. The kids are growing at a rapid rate and we will soon find out what school Buba will be going to. I am so nervous and excited at the same time.
This month's photos had all been planned out and somehow went the complete opposite direction. The day light disappeared, the cold moved in and Missy Moo was very cranky and crying. I knew since my mom and I were off to Venice we wouldn't all four be together again to take another photo for March so I made the most of it and just sat on the ground to cuddle with the kids and whatever came from that would be our memories. I put the rug from the back room on the patio stones to sit on and all the sudden the kids were having fun doggy piling Daddy and crawling all over us. It quickly turned into a lovely moment. I love when that happens and I never push the photo thing because I never want them to hate it but it is great to get to capture us each month all together. Even if they are a little grainy and off I still love being motivated to getting them done each month. I look forward to whatever creativity we pull from it each month. Next month, we are off to France so hoping to get some nice sunny family captures for April! Let's hope it's not a wash out, flood vest like Venice!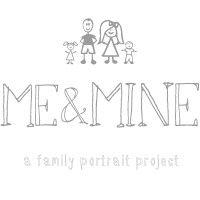 I absolutely love this project and capturing my family as a whole unit each month. I love that it motivates me to capture us each month and I also know that I will cherish all these family portraits forever. This month I am sending you to the beautiful Alex at Bump-to-Baby. Please stop by and see her gorgeous son, Ethan and their beautiful family captures.
Don't forget Me & Mine has amazing perks for linking up. Each month one lucky family will WIN a photo prize from PhotoBox. I wish you all good luck and thanks for joining us in celebrating family portraits everywhere! I look forward to reading them all over the next few weeks.