A festive and celebratory week has just gone by, phew, I am exhausted and really have no reason to be other than pregnancy. Christmas festivities, Christmas Dinner, Presents and then my birthday on boxing day can be a lot to celebrate all in three days. But we have had the smallest and quietest holiday ever. Most days we didn't even get dressed or out of the house. Normally, I am not keen on this but it felt good, it was needed, and we have all sadly been so ill over the holidays. With our batteries recharged and all of us on the mend, I am hoping we can make the last week of our holiday vacation one to remember. I need to get online and start planning.
We have an exciting trip to look forward to coming in February so we don't have the holiday blues in January. We haven't told the kids yet for fear we wouldn't hear the end of it but come February we booked a last minute trip to Disney World in Florida and I can't stop thinking about it. It all came about when we saw just how star struck and mesmerized the kids were visiting Santa at Farmer Teds a few weeks ago. We quickly realized this is the age to take them to see all the characters and watch their faces light up with magic. Since we are half way to growing baby number three we thought February really is our only chance as we don't want to take a baby and didn't want to wait five years until this baby is old enough to remember it. I am like a little kid hardly able to hold it in…so many times we almost let it slip to the kids. I am sure I won't last another week without telling them!! ha
This Christmas has been a weird one for me, with no extended family around to make the house feel alive and full. Usually I love having my decorations up as long as I possibly can over New Year's Eve and the first week of January even but this year, I blame nesting in pregnancy. I couldn't take the clutter with three six foot Christmas Trees and every shelve with baubles and glitter it feel unorganized. I went like a crazy person and put it all away last night and then scrubbed my house like a mad woman. I think my husband was afraid to ask what was wrong. Nothing was actually wrong, I was just desperate to clean the house and put it back to normal. I have a few diy projects on the go and with that it was just feeling like chaos. I woke up this morning, lighter and ready to take on the day with the house so tidy and clean. I worried I would regret it but as we don't really do anything for New Year's Eve, I thought it just gives the kids more room to play. There is nothing better than a clean house.
THIS WEEK I AM LOVING…
I smashed through the Smoke and Bones Trilogy. Not getting dressed for a few days gives you plenty of time to read while the kids watch movies or play in the new playroom with their toys. I just picked this one up today with some birthday money I got. But after that I have no books in the pipeline so anyone know any good ones comment below. Any genre…
Have you heard, I made a giveaway page so you can bookmark and keep up to date with all my current giveaways here. I have tons coming up in the new year and a new one added almost every week so keep watch. It won't just be baby and kids prizes either, at the moment two people could WIN a new Single Mattress, a capsule Coffee Machine, or a BubbleBum Inflatable Booster Seat for traveling and easy moving from car to car. I have some baby prizes and cocktail prizes coming up next week too. Keep watch.
a Rafflecopter giveaway

a Rafflecopter giveaway

a Rafflecopter giveaway

I am totally cheating here, but I watched my kids tear into their Christmas presents on Christmas morning like they have never done before. Last year, MM was still not quite sure how it worked or what to do and B was just getting the hang of it. This year, it was a whole new ball game, once I told them which wrapping paper was theirs, it was go! They had a few presents each as we don't go mad on presents and they had them opened and already begging for us to add batteries to them so they could play. Forget breakfast or any treats that may be lurking they wanted their toys. Even Mr P and I felt like kids opening our gifts from the kids. It was the first year where the kids wanted to buy us each presents and keep it a secret from the other. It was so very special.
Of course, we have watched endless movies too. On my birthday we went to the movie theatre to watch Ferdinand. I think it's my new favorite kids movie. What a treat. Definitely one for the whole family to watch. The kids got Cars 3 from Santa too. I love having a few days in the house, under the duvet, popcorn made, watching kid movies.

My love for matching doesn't end and at Christmas time it's the best time for the matching pjs to come out. I like to get ones we can wear all winter long not just on Christmas and these stag ones (reindeer) pjs are so comfy I might just be in them come summer time too. I am lucky I even fit into these as I bought them before I found out I was pregnant. Bump just barely fits in the top when I stand up. I love this photo of the kids touching my bump. They are obsessed with talking to their little brother and bonding with him. It's so special to have them old enough to be such a big part of my pregnancy. I am 20 weeks now! Half way there, I can't believe it, a mommy of three! I never thought it would ever happen. It's all very exciting.
My favorite foods at Christmas time along with my Fudge making abilities and some Rice Krispy Trees too, is hot chocolate and cheese and chutney. Both make me thinking of Christmas time right away. Hot Chocolate with marshmallows to warm the hands after playing in the snow or a day at the Christmas Markets. Cheese and Chutney on crackers when friends and family come over to visit and wish you happy holidays. I think I could eat cheese and chutney until I am sick I love it that much. I had never heard of chutney before I moved to England and I love it homemade too. It's the perfect sharing food.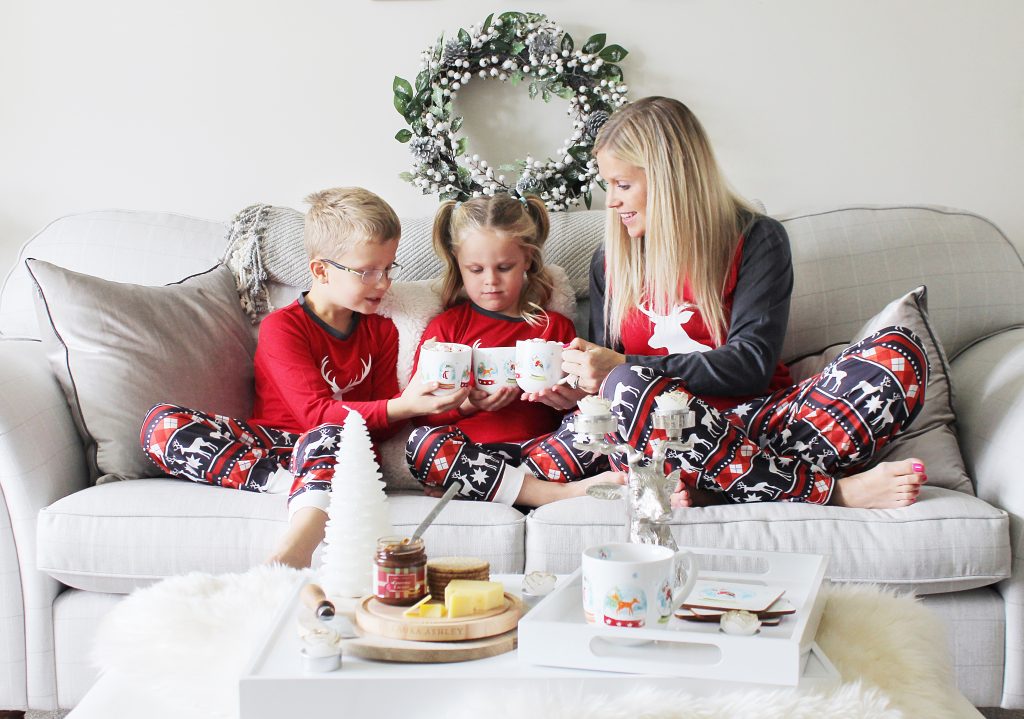 I am not the only one celebrating the holidays this week. Check out these gorgeous instagram feeds by clicking on the photo. They are feeds to follow for the new year and see all that they snap in the days ahead. Instagram continues to be my favorite social media place to interact and pour over photography. I am attempting some cinematics too. But it's a slow learning process to get it right to fit my gallery and feed but also a lot of fun. If you have any tutorial links leave them for me in the comment below. I am learning how to do them as a pinterest pin which will be awesome if I get it right.
Linking up with Coffee Work Sleep Repeat for #littleloves