February is a short month so why does it feel so long this year? I swear I feel like we have been in February forever now. It's hard for the time to move along when your cooped up inside for most of the month but we have been making the most of the last week of this month with the sun finally coming out. There have been beach visiting, outdoor bike riding, play ground attendance, and exploring nature. We have changed our bad gloomy weather attitudes to a exploring family attitude this month. We are looking forward to Spring hitting us with her presence and beautiful blooms.
Mommy is loving…
The lighter evenings, giving more time to photograph food.
Her first ever girlie holiday (which she is on as we speak).
Flowers in the house.
Daddy is loving…
Golf (It has to said, he is obsessed).
Playing soccer with the kids.
Our beach visits and outdoor adventures.
Buba is loving…
Drawing in the sand and dirt with sticks.
Collecting seashells on the beach.
Counting to 100 in a sing song voice.
Missy Moo is loving…
Saying new words everyday.
Eating plums.
Dancing in music class in front of everyone.
Together we are loving…
Being silly as a family like playing airplanes.
Going on family adventures.
Eating out together.
Learning a new language.
Our February didn't hold much exciting news to share. We made the most of what we could on the days it wasn't lashing it down or hailing. I have a feeling March is going to get spicy for us, the sun seems to be out more, longer days, lighter days, and we have Grandma here too from America!!!! Hip hip hooray! I can't wait to share with you all.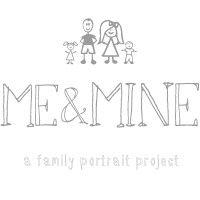 I am loving being a part of the Me & Mine team, it's such a great project to get involved in and motivates you to capture your family altogether each month. This month I am sending you to the stunning mastermind behind this project Lucy at Dear Beautiful. Please go have a peak at her gorgeous bunch who are always laughing and having a great family time together.
Don't forget Me & Mine has exciting perks to share for linking up. Each month one lucky family will WIN a photo prize from PhotoBox. February has another amazing photo cushion up for grabs so everyone that links up is in the drawing! Good luck and thanks for joining us in celebrating family portraits everywhere!