I can't shake this feeling,
It's all piling up too high,
The end I'm not seeing,
My to do list, up to the sky,
With testy toddlers in tow,
Throwing tantrums left & right,
A crawling baby with a bow,
Pulling out everything in sight,
Laundry, cooking, cleaning,
Doing my daily chores,
Exhausted and leaning,
Need some fresh air outdoors,
Challenges I have set,
Is of my own doing,
Trying to get my goals met,
With little time, anxiety is brewing,
Trying to find balance in life,
Achieving all I want to,
As a mother & as a wife,
But as an individual too,
I can't shake this feeling,
My head is spinning too fast,
At first it all looked appealing,
I long for the calm of the past.
* Sharing my poem with Prose for Thought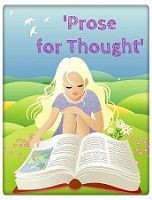 I am so honored to be shortlisted for the Brilliance in Blogging Awards!
Please vote for Let's Talk Mommy for FRESH VOICE for a chance to be in the finals!!!