It's either a very happy, happy Friday for us or a dreadful one. I say this because we are traveling as you are reading this to the south of France to see some friends. I am so very excited to hopefully get some sunshine finally and catch up with friends we haven't seen for awhile. I say it could be amazing since we are all on holiday together but I say dreadful because the kids have been so ill this past week and I just pray the antibiotics have been in their system long enough this week that come travel time they are ready for it and happy for our upcoming adventures.
Here is what we having been loving among the sickness and calpol this week.
Read
While we anxiously waited for Buba's primary school placement this week we have been setting up a little space for learning for him. It's not even close to being finished but he already loves sitting at this shared desk of the kids and reading his Dr. Seuss books. We were disappointed with the outcome but it could have been way worse and are grateful to get what we got. I am still putting him on the waiting list but I think I would not have a solid ground for appeals sadly. I do believe in everything happens for a reason to some extend.
Watched
We are on the last two episodes of the box set for Suits and still absolutely loving it. We also have been catching Revenge and Scandal. I am saving Grey's Anatomy entire season to watch it all together so don't share any spoilers to me please!
Heard
I have been listening to two kids and a husband coughing, sneezing and crying all week so ill. It's the first time I have not caught something they have all had. It feels weird to be the one not ill in the house but also amazing. I hope that I stay healthy and clear of whatever has plagued my family especially since they are hopefully at the end of it all and we are on vacation. If you have been reading LTM long though you will know I have the worse luck ever and after a washed out rainy Venice trip recently I am praying France goes well this weekend!
Wore
Although a really grainy photo, sorry, I am loving my new outfit from new look this week. It's so comfortable and yet makes me feel pretty which isn't always an easy task. I got the outfit idea from a lovely SWM linker Stylish Memories last week here. I have been on a little summer shopping spree lately and hoping to have a vlog up soon for it too as we are off to America for two months for our last big USA summer before Buba is in school.
Made
We made the most of all being home together sick with a Spanish themed family date night. Tried some news foods out and had a buffet on for the kids to help themselves too and then a movie before bedtime. We all enjoyed having our pjs on and lounging around together. The Spanish desserts were the best of all.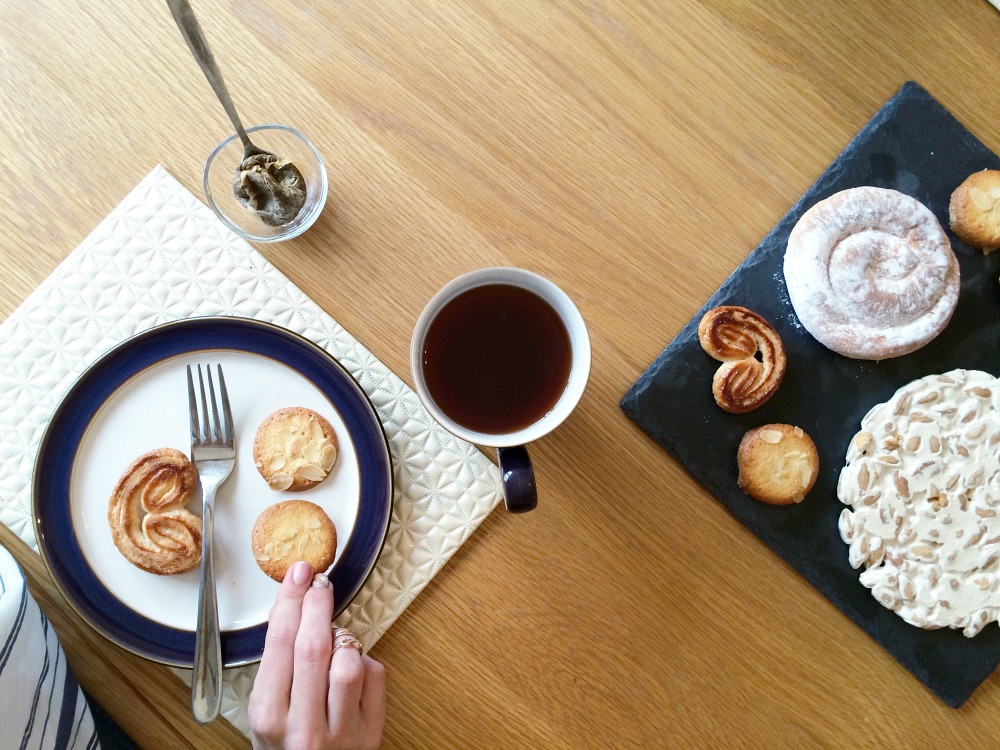 And lastly…
This week I got to catch up with the sweetest girl ever, my friend and your host Morgana. It had been far to long for us to go without our coffee dates or a play date with the kids. We sat chatting away in the most swanky amazing cafe ever! (Great find Morgana) Hours passed us by and I could have sat there forever chatting with her. It's friends like Morgana that make you feel loved and special. She is always so positive about life. I always leave thinking I had the best time ever and so glad we got together. I know I could tell her anything and everything and she wouldn't judge me or at least not out loud but she will always give her amazing advice if I need it.
Our coffee date this week just made me remember why I love the heck out of her and our amazing friendship and because our husband work together we get how it is to be married to the financial world and because we both blog we get how it is to be in this world too. I don't have anyone close to me that gets me and all the worlds I am apart of so I find that our friendship is not just special its unique and I am so grateful for her and her amazing family in our lives!
Linking up with Butwhymummywhy for #littleloves