In life the unexpected can happen at any time and it's always when you are most comfortable. We have had a few hiccups lately happening around us that have taken us by a big surprise. I hate just when you think life is going smoothly and happy something comes out of nowhere. If I have learned anything after having kids though it's to hug them tighter kiss them a few extra times before bed and count all the good things that are happening still all around us. It's about looking at it in a different perspective isn't it?
My blog has been a little quieter lately so I do apologize. The calendar somehow got so full this month with kids' activities, playdates, social events, dinner dates, partner away, now I am away, MM's birthday and two blog conferences ahead, I think by end of June I will need a month of sleep to recuperate. Somehow June always is my busiest month of the year! What's your busiest month?
THIS WEEK I AM LOVING…
I have been so awful at reading this week. To be honest, I have been stock piling a few books for my trip to Portugal today. As you read this I will be packing and driving to London to join a group of lovely people and be in Portugal checking out some James Villas out there and enjoying some adult time. So I have plenty of time to read by the pool or have a few chapters before bedtime. I can't wait. I haven't been on a holiday like this ever nor have I ever been away from the kids for this long. I am sure I will be aching to see them come Wednesday morning. I am planning on buying two or three books in the airport and stocking piling some good hours of reading.
Not sure if you heard about the Netflix Stream Team but myself along with 25 other bloggers will be sharing our Netflix experiences, loves, viewing lists, kid's favorites and more over the next year. I am such a huge Netflix fan, having been sharing with you all here on #LittleLoves what we are watching and loving each week. With so many tv and movies out in all sorts of genres we have plenty to keep us busy. I can't wait to share it with all of you. Keep watching this space.
We had to take a trip a little trip to London to renew B's US Passport so we headed off to the embassy nice and early on the train which was his first train ride ever. Then we made our way to the embassy and lucky for us they processes us immediately and in no time at all we were on the town sightseeing and having a great one on one day together. B got to ride his first train, first tube and first day out in London. Come have a peak…



I don't know about you but I have always loved, loved boyfriend jeans on everyone else but myself. Every time I see someone wearing them I always think they look trendy, comfy, and chic. However, every time I have ever try a pair on they are absolutely massive on me and I look like I am drowning in them. Not just because I am small I think just because I am used to wearing skinny jeans they feel like this. So I broken down this week and bought a pair to make myself wear. I will admit the first day I wore them with a tank top blouse and thought they looked alright and then saw my reflection in the window of the grocery store and about fell over. I looked frumpy. So I gave them another try a few days later and I didn't feel as awkward in them. I think it's because I have worn one style for so long its so far out of my comfortable zone I feel weird. I don't want to look frumpy but they are SOOO COMFORTABLE I will give them that much credit. I don't know how do you feel about boyfriend jeans???? Maybe I just haven't found the right pair!
I have made a thousand or more desserts in my lifetime already and this one beats all the others thus far or so my husband said last night after taste testing. My father-in-law just so happen to be over for dinner the perfect secret tooth genuine pig too. If desserts pass his taste testing you know you have a winner.
The Social Kitchen is a family cookbook with a story to tell along side so many amazing recipes that are easy to make and love. The great thing about this cookbook is that is aims to raise money for Dermatrust. All proceeds go to charity.
"It's been created by Dani Tucker, whose generous and loving mother Shally died 2 years ago from 20 years of suffering from rare auto immune diseases, this is her way of sharing her mothers incredible love and philosophy as well as giving others the chance of survival."
Shally left behind a legacy built around her kitchen table, from her food to her laughter she taught her family there is always room for one more and to be generous and kind. This woman sounds so much like my own mother. I love the philosophy of food bringing family and friends together in the kitchen to be social. When I was growing up we were always all in the kitchen catching up, helping out and being together while all cooking and baking around the chatter.
That is something I want in my own house now that I have kids. I have vlogged and blogged a million times over how much I love to get the kids involved in the kitchen and in what we are making them. I even recently made a breakfast bar myself out of our kitchen island so that I could have family and friends sitting in our very kitchen while I run around cooking and baking. Playing hostesses is one of my favorite things to do. There is something amazing about making food and bringing people together. The laughter and happiness that fills the house is such a great sound.
This week, I made Shally's Cheat's Millefueille and boy howdy excuse the cowboy talk but this one is a winner. It was easy to make except I highly recommend not making it on the hottest day of the summer as the top icing kept melting right off the top so I couldn't make a nice swirl with the chocolate they had to stay stripes unfortunately. So as pretty as it should have looked it tasted beyond amazing.
All I can say is Thank you Shally!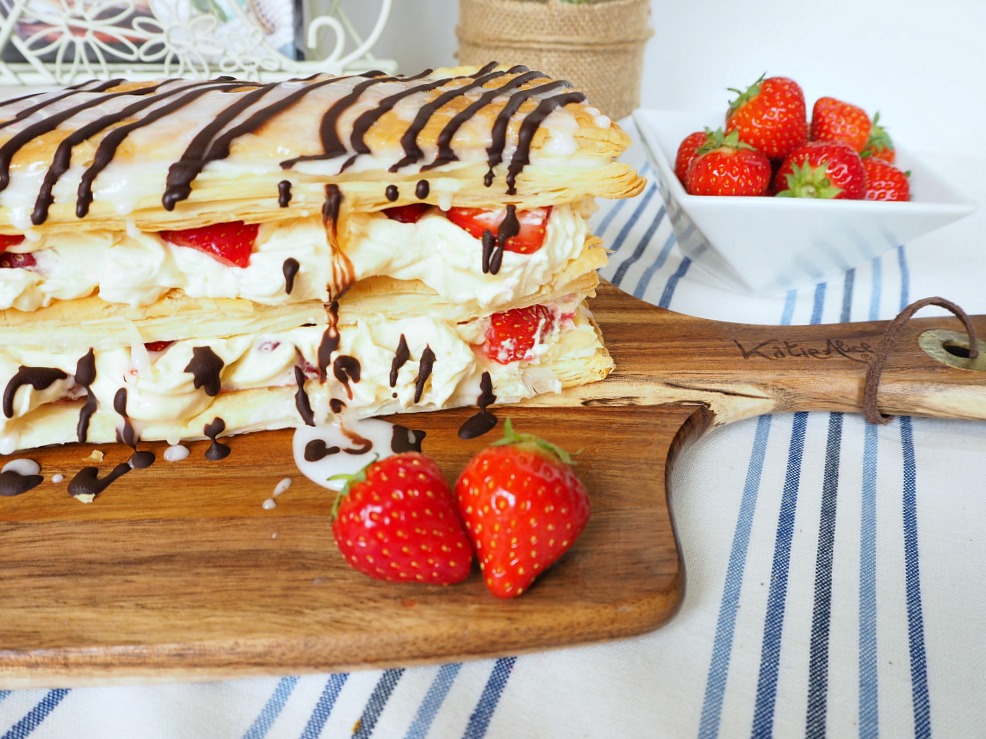 There are starters, mains, desserts galore in Shally's cookbook and so many tips and tricks on entertaining and socializing in the kitchen. I have to say the styling and cover had me in lust too. Gorgeous photography. I am a sucker for a good food styling shot. You can buy The Social Kitchen on Amazon and remember all proceeds go to charity.
My linky Share With Me has moved for those that saw and have been linking up with Mummy Fever thank you so much for your continual support and keeping Share With Me alive. I would hate to see it stop blog sharing with me. If you haven't had a chance to link up with Charlotte it's still every Wednesday, old or new, up to two and she will comment, share and love you as much as I did, I promise.
Linking up to Coffee Work Sleep Repeat #LittleLoves