If there is one thing my kids love to do, it's shopping for clothes. Whilst most children care more about toy shops and needing bribed to try on various outfits in a department store, my two jumped at the opportunity to have some fun with a Debenhams personal shopper this weekend with a sneak peak at their new kids summer collection. It's a collection that's full of vibrant color, patterns and fun. I had never experienced a personal shopper either so I was very intrigued to see how that worked especially with two kids in tow.
We went through the kid's department for boys first as B was keen to pick out some new summer clothes. He would live in shorts and a tshirt all winter long, if I let him. I love his style and the patterns he is immediately drawn too. Most the time, B picks out outfits that I would pick out for him, myself. We scooped up some vibrant swim shorts and matching funky tops to complete a few summer outfits for him to try before moving onto MM's section.
Not that I am in favor of girl clothes over boy clothes but there is always more options because girls can wear a variety of clothing: leggings, cropped leggings, shorts, skirts, dresses, tunics, t-shirts, pants, and more. The combinations of all of these are endless too. I have always loved dressing MM in the brightest colors I can find like yellows and fuchsia pinks instead of pastels.
Once we gathered a few things for each of them to try on which was way easier with a personal shopper on hand to hold them while the kids and I picked things out, we were ready to hit the dressing room. Shopping has never been so easy with two toddlers in tow. It's nice to have the kids there to hold sizes up to but also someone else to help coordinate outfits and carry the clothes while I hold my two from running off. I love my two coordinating their outfits and with a boy and a girl sometimes that's a challenge. The personal shopper was really helpful for this too.
The girls summer collection was full of flamingos, rainbow stripes, soft and light material dresses to floral shorts and jumpsuits. Ted Baker at Debenhams has always been a firm favorite of mine since the kids were little but I really got to know other brands that Debenhams has to offer this time. The other brands have amazing styles that are just as vibrant as that well know Ted Baker style for this summer for kids too. MM picked out two Bluezoo dresses that were her favorite and they will be perfect after swimming in the pool to throw on and light enough for the hot weather in the states. The kids sizes are great too because they go up to sizes I can wear so I can match MM this summer too. I am all about the twinning at the moment.
After lusting over what we gathered for MM in the dressing room, we moved on to try on B's selections. He chose turquoise, reds and orange patterned shorts that pop with fun and tops that coordinate. When we go to America for the summer it's normally very hot every day so we live in swimwear. For that reason, we stuck with a variety of swim shorts for B with fun tops where we can wear them as an outfit and then swim in his shorts too. I was happy to find that the boys collection this summer is just a colorful as the girls. Sometimes that isn't always the case but I had plenty to choose from in the boys department.
As you can see above, the kids had a blast trying everything on, it was only when it came down to choosing a few outfits each that they had as much trouble as I did picking what to buy for our upcoming holiday. I am sure the entire department was listening to my two squealing in their dressing room while checking out the new kids summer collection at Debenhams. We had such a great morning with our helpful personal shopper and roaming around the kids department for a chance to see the new kids summer collection. There was so much to choose from. This year is bound to be the summer of color, I think for all kids clothes. Now, Debenhams all you need is a few more matching outfits for boy and girl siblings, just a tiny suggestion, for us parents that like them to match and coordinate. Other than that it was so good to get to know all the brands available for the kids at Debenhams.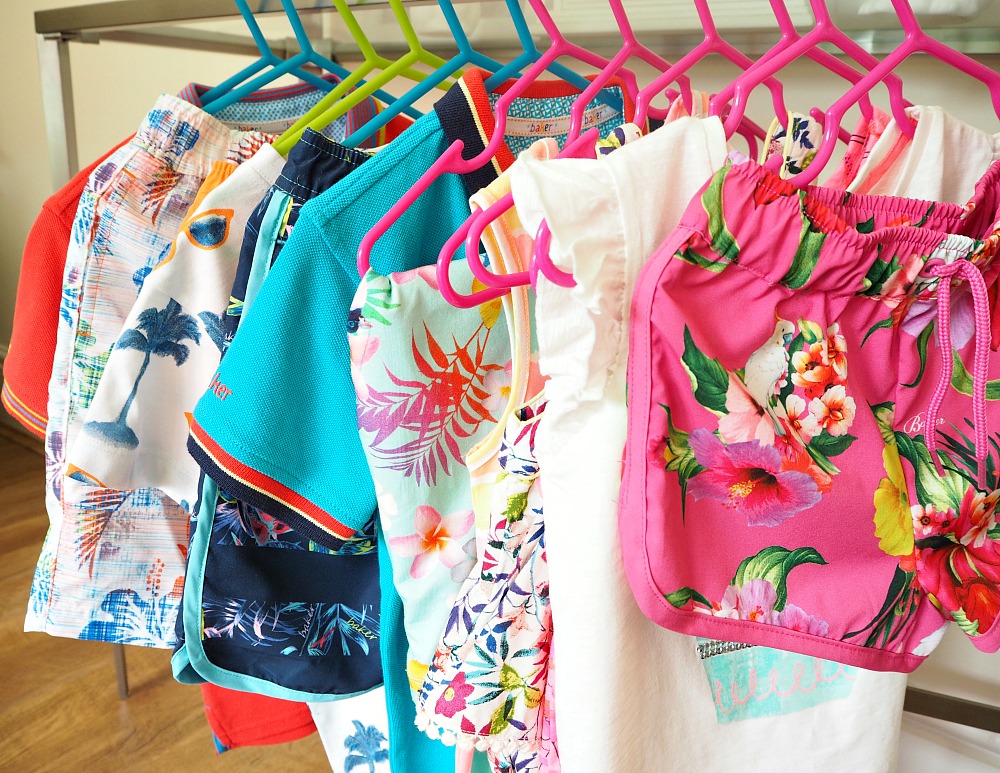 The kids are set with these vibrant patterns and styles for summer. Do you love bright colors on your kids in the summer? What's your favorite Debenhams brand? Definitely check out the new kids summer collection it's one that won't disappoint in the boys department and the girls department.
*Thank you Debenhams for inviting us to view the new kids summer collection with your amazing personal shopper. It was such a lovely experience. We were asked to share our opinion on the new kids summer collection and all opinions and photos are our own in exchange for a few outfits for the kids.