It's been a lovely week this week. Not too fast or slow and not too busy or boring. The garden renovations I have long talked about have finally started. The nice weather is here to visit too. While I am excited for our renovations, I don't think it will be finished before we go to America, unfortunately. It also means all this nice weather we have forecasted, we can't get the paddling pool or bouncy castle out for the kids after school nor will I be able to sit outside and enjoy it. But I am staying optimistic.
I have been talking a lot about feeling like me again and feeling like I have a handle on things in my life both work and family. It seems like a big cloud has been lifted for us and everything is just running smoothly. The news that my dad is off chemo now too has helped huge. Now he can focus on just getting stronger. I always get a bit giddy in the lead up to our trip back home too. I feel like I had been moaning constantly on here and everywhere for months now and I hated it. I have also been working on personal challenges of a healthier and more confident lifestyle for myself. That has helped me feel so much better too without even realizing it was getting me down. I am back in the gym too! I have a bunch of things I am working on for this space that I finally feel like I have direction and I can't wait to share it with all of you over the summer.
THIS WEEK I AM LOVING…
I am half way through last week's book The Couple Next Door. It's a good one to keep you on your toes and guessing in suspense. I also have been reading as many blogs as I can. I really was awful about supporting my fellow bloggers last year so I am trying to make up for it.
Here's a post for each passion of mine for you to lust, drool and read over:
Family:
Sparkles and Stretchmarks – 20 things to do with Kids this Summer. Loving these ideas Hayley has inspired me to write my own bucket list for this summer. Keeps us doing different things throughout our trip.
Interiors:
Cate St Hill – Amazing kitchen makeover with Ikea has me wanting to rip my kitchen out and start over. It's lust worthy check it out. I love her simple and elegant home style. Can I redecorate yet?
Food:
Lavender & Lovage – a vegetarian soup that is drool worthy. In my search for more vegetarian inspiration for my parents new diet, I came across this blog.
Travel:
 Hey Nadine – Came across this beauty on instagram. I have always wanted to bike around Cali, this makes me want to put it on my must-do list.
Fashion: 
Fashion Jackson – How to wear white on white is amazing. I found her on instagram and love her styles. I feel like this is how I would want my wardrobe.
Have you heard of the new blog conference in Manchester called NOW Blog Conference. In true me fashion, I was clueless until your lovely 'hostess with the mostess', Morgana told me all about it. I have jumped at the opportunity to grab a early bird ticket. I was absolutely gutted that I missed this year's blogtacular and this one sounds like it's very similar in the creativity focus. Who else has heard of it and is thinking of going? Give me a shout out on social media @letstalkmommy. I can't wait to go with Morgana like the good old days, she was my partner in crime at all blog conferences when I first started as we had been friends for years before we attempted on night that we both blogged. You know those bloggers that don't really tell their friends offline what they do… we were them. hahaha
The kids have been watching me get back to my workout dvds and a bit of the gym as well again. I lost my way with my workout routines. Summer is just around the corner and I don't want to start it feeling bad about myself and being lazy. I noticed right away I have more energy if that's even possible. I have missed how good it makes me feel both inside and outside. Sometimes it's so hard to get motivated but once I am in the zone I am really good. Let's just hope I stay in the zone until we reach America. Every summer my mom and I help each other change our bad eating habits and motivate each other to be healthier together. It's always easier when you have someone to smack your hand in the fridge and say no for you when you can't. We did a 30 day "no junk food" challenge one summer that quickly became our tradition. 

It's been a wardrobe confusing few weeks in a row for me. The weather has gone hot then rainy, then cold, then hot again. I am constantly coming home after the school drop off changing and then changing back again later in the evening. It's been a mix of jeans, skirts, and off the shoulder tops which I am so in love with all the sudden. Partly because I got new medicine that is really helping my skin so I am not as nervous showing it off at the moment. If only I had a brighter bedroom with a bigger mirror to show you these more in details.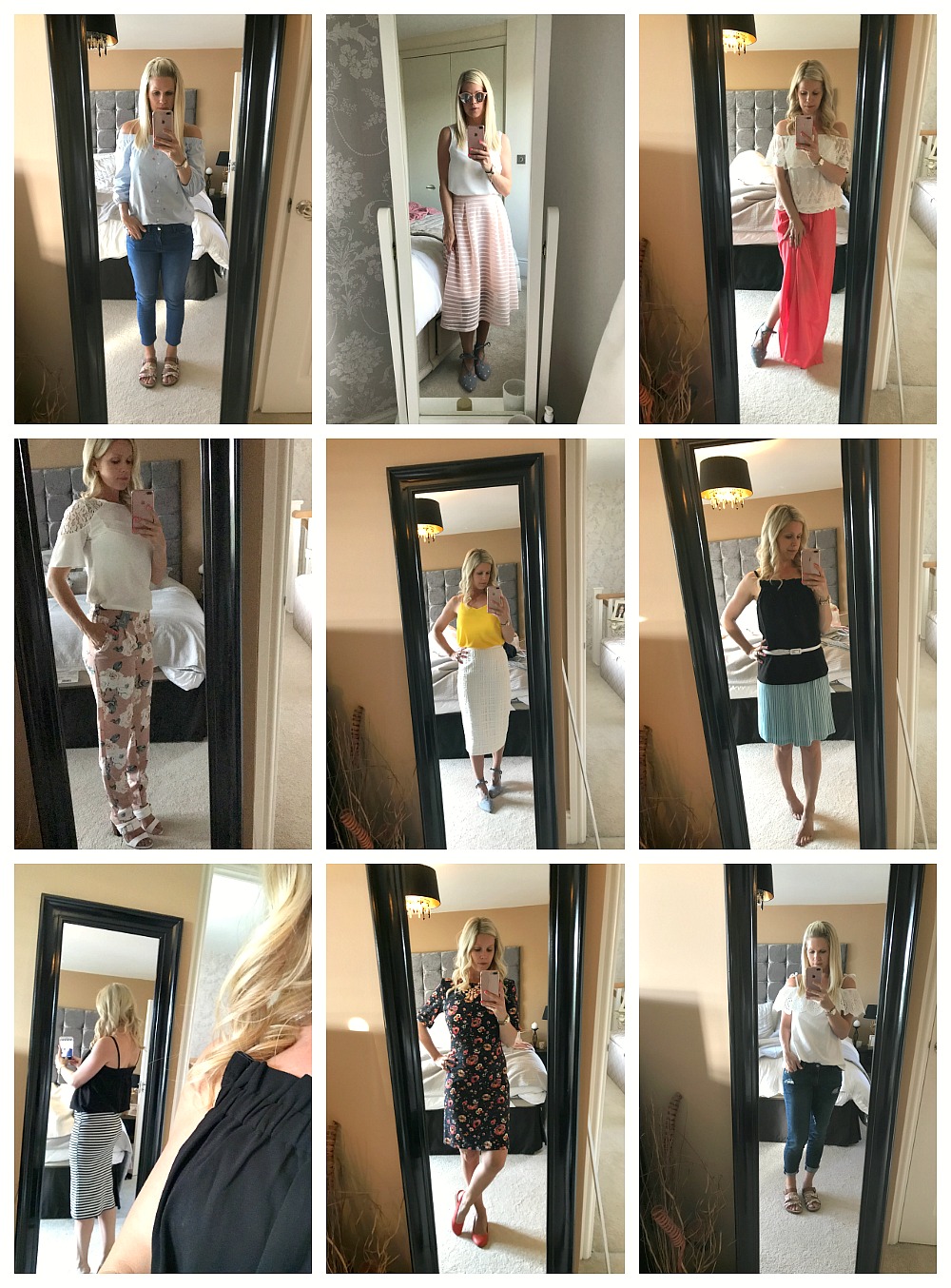 I am making an effort to share my garden renovations on my ig stories, each day as it progresses. I hope you will all join me and see how it's coming along. I am using this not only to have more practice at ig stories but to get in the habit more of doing it on a regular basis.
I also will be making a lot of vegan and free from recipes moving forward. In the aid to help my parents learn that food can still taste good even though they have been forced to eat a special vegan diet. I am sure my parents aren't the only ones in this boat so I will be blogging and sharing while I test out recipes for them too. I am working in the free from recipes in aid to help B eat more of a variety of foods and still trying new things all the time even though he is limited with his severe food allergies. My parents and B got me thinking why am I creating all these recipes and ideas and not sharing them as surely others will want to try them out too.
I want to give a huge shout out to all my followers that continually join in my hashtag community. I have got into a great routine each night of scrolling through it and trying to like them all and comment on as many as possible showing my support right back. The #lifecloseup community is just that so supportive. We are getting more and more new instagrammers joining in every day. I am loving all the new feeds I am getting lost in on a daily basis with their stunning captures. This week I even featured not nine but eighteen favorite features because there just was too much choice and even then I struggled to pick only eighteen. Thank you all so much! Keep tagging those photos using #lifecloseup to get your chance to be featured on my instagram and on my blog! Do check these feeds out below so amazing!
 "AND A BONUS NINE BECAUSE THIS WEEK I HAVE FALLEN IN LOVE WITH NEW IG FEEDS"
Linking up with Coffee Work Sleep Repeat #littleloves