Packing for a newborn is never easy. If you are only staying one night or ten nights, it seems you still need the same amount of necessities for your baby. It is inevitable that you will need to bath the baby, feed the baby, and provide sleeping arrangements. It's also a must to have car seats and strollers sorted for your traveling. It's not easy to travel across the world without some wheels to assist you along the way.
We have been putting the Ickle Bubba Discovery Stroller to the test while we have been galavanting around America this summer with my family. I always find umbrella folding strollers are the best to travel with because they fold easily with one hand occupied, are lightweight and you can hang numerous carryon bags and travel necessities on the arms and in the underneath basket too.
So what do we think of baby boy's latest wheels?
The Ickle Bubba Discovery stroller has been perfect for family adventures, days out, traveling through airports, and taking family walks too. Suitable from birth up to 4 years old, this compact stroller only weighs an impressive 7KG and is packed full of enhanced features to make parenting on the go easier.
What's included:
Discovery stroller, Luxury soft quilted seat liner and footmuff, Cup holder, Buggy organiser, Protective storage bag, Rain cover, and User guide.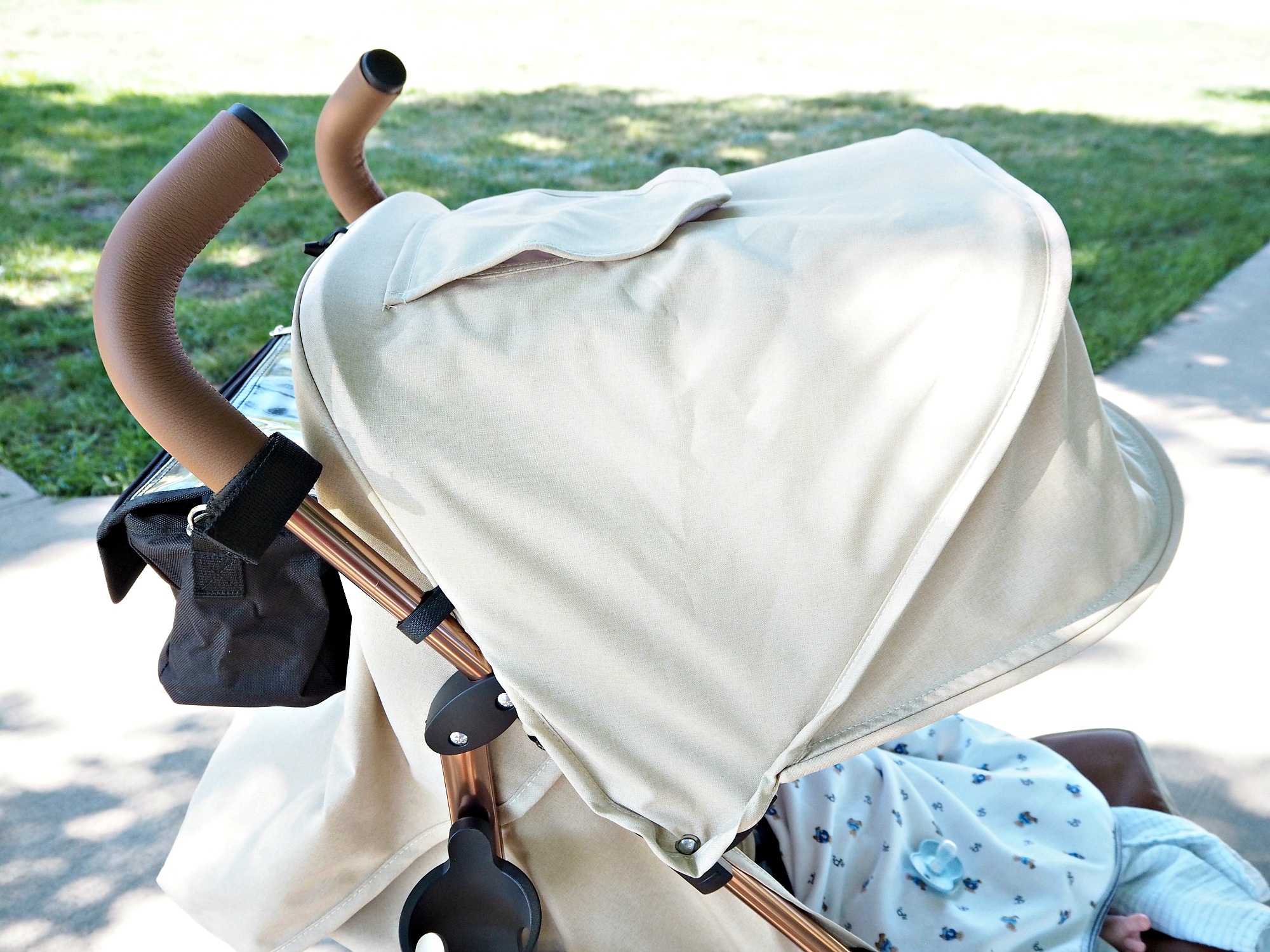 It has a mini hood if you want baby to be able to look around and an extended hood with a peep window when the sun is shining and baby is napping. I love the lay flat seat option especially for my newborn with a five point harness to keep him snuggled and safe. It's spacious sear with gorgeous leather trim detail.
Let's drool over the rose gold frame for a minute. It's a unique and beautiful design. The cup holder is a firm added bonus for my Starbucks.
It strolls smoothly, keeping baby sleeping while we are out and about on days out in America. It's been so easy to fold up with baby in my arms by using my feet on the fold lever. This is a huge thing for me on strollers. They have to be easy to open and close if you have your hands full. 
Clearly little man is catching a lot of zzz's on this trip to America being so little and riding in his new Discovery Stroller. I love the light cream color and brown leather detail. It's so pretty and perfect for holidays, days out, school runs, and more.
The kids love helping Mommy push their baby brother. They love this one because they each can have a handle to push at the same time. Got to keep it fair who pushes the baby! LOL
We have been here a few weeks already and it's been the perfect holiday stroller abroad. It came with a travel black bag that held all the accessories and the stroller it's self. It kept it safe from getting dirty and thrashed around by the airlines too. We all know they would have this beautiful cream filthy if it wasn't in a carry bag. The bag has convenient handles for easy picking up and dropping off on the luggage carousel.
The handy buggy organizer is always a bonus. I love having my phone, car keys, and essentials that I need at easy reach. A few binkies stored close is always a good idea for babies too.
My favorite part is the foot leather detail. It's so soft and pretty. What is cuter than baby toes sticking out from underneath the sun hood?

It comes with a rain cover and footmuff but obviously in 100 degree weather in America we don't need these accessories. I also removed the bar in front of the baby for easy reaching in and out to him as he is so little at the moment he doesn't need it on. But it's such a beautiful stroller. The rose gold made me fall in love instantly. I love the cream color overall. Baby boy clearly thinks it's comfortable as he is always snoozing away or looking around at things passing us by.
I would highly recommend this for those loving to travel, spend days out, family adventures and family walks too. It's the perfect little fold up stroller.
*Collaboration