I am a huge fan of family traditions. Each year during Christmas we go to see the brass band at Mr P's golf club play and sing Christmas carols. It's such a festive lovely day out with the kids. There is food and mulled wine to enjoy and the kids get so much attention. We have a tradition of taking our December family photo here under the old willow tree next to the moat which is a thousand years old.
Last year's photo is actually printed out on a canvas in our dining room now. The kids weren't as obliged this year to smile at a friend taking the photo as they didn't know him. It tickles me how much they react to someone else holding my camera and take their photo. Not that I can get them to smile for me either.
It's been a great year for us as we have had the pleasure of spending so much time in America and Spain. B also started school and MM nursery two mornings a week so our daily routines have really changed. It's taken a little bit to get used to our new way of life of school runs and nursery drop offs but we got there by the end of the first term. It's been a nice change to dedicate time to just MM and spending one on one time with her like I did with B when he was her age.
MOMMY IS LOVING…
Christmas adventures and festivities with her family.
Riding the train to see Santa.
Spending Christmas in Ireland with Daddy's whole family.
DADDY IS LOVING…
Riding the ferry to Ireland to see his family.
Time off from work.
Showing his kids off at the golf club.
B IS LOVING…
Riding the train to see Santa.
Going up the ferris wheel and watching Daddy squirm.
Taking the ferry to Ireland.
MM IS LOVING…
Riding the train to see Santa.
Christmas day and the magic of Santa bringing her gifts.
Being on a big ferry boat that crashes through the sea.
Like every year, we end the year as busy as we possibly can be. I think everyone gets overwhelmed at this time of year because we say yes to more things than we normally do and we schedule so much during the month of December to fully experience Christmas time that by New Years we all need a calm, and relaxing time to recharge. We have ended the year just as we planned and are ready for the new year ahead.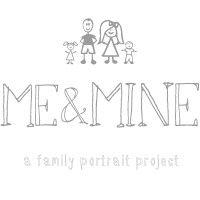 The kids have grown up and changed the most this year together. You can see over the course of our year below the many family adventures we have shared and definitely who hates getting their photo taken the most, MM. Funny as she is so photogenic when it's just her in a photo. We have had a busy year together and really looking forward to the busy year we have planned next year already. I have set us a few family challenges for our photos next year too. I can't wait to share them each month with all of you again.
Happy Holidays!