Welcome to the weekend everyone! I hope all of you have survived the school holidays and being back into a routine of normal life again. We have been battling illnesses again here but only because we were off traveling, typical isn't it? I swear, B catches something on every plane ride we go on.
This week has been getting the holiday washing and house back together after our trip to France to see some good friends of ours new villa. It was lovely and made me want to move there so badly. I would love to live abroad someday, yes, I realize I am already living "abroad" but somewhere where it's a whole new language to learn, not forever but just for the experience. I think it's amazing that my friend's kids are completely bilingual. Other than that we are finishing off everyone's rounds of antibiotics. I can't believe (knock on wood) that for weeks Mr P has been ill and both children and all three are on antibiotics and yet I have remained untouched. That never happens and I am so grateful for it.
Let's look into what I have been loving this week and ignore the boring illnesses, laundry that has been going on.
Read
My two bookworms love a new book. As B is starting school soon we have been reading more than ever before. He loves reading to MM and teaching all that he knows. This week he is teaching her about stars and counting with "Round like a ball" from Parragon books. We love being a part of the #bookbuddies program and the great books we are sent.
Heard
This week, I have heard some amazing news from my beautiful friend Lucy. You can read her lovely announcements, here and here. I am so happy for her and her beautiful family on their new adventure together. Glad it's out now so I don't have to keep worrying about slipping up on twitter on the baby talk.
Watched
I have been watching all my usual shows. We gave up on Fortune, it just got way too weird for us. We have been looking for new shows as we have caught up on all the Suits seasons. We still love Forever whenever there isn't anything else on tv. We still haven't caught up on Grey's Anatomy because we need to find the first four episodes as we didn't have it on record when it started. Sky catch up only keeps the recent ones. Boo.
Wore
I was so excited this week to find that MM is now in big girl clothes which means we can now can match our wardrobes in just about everything. Kids clothes sizes go up to age 16 years and when you are barely five foot you have one advantage: wearing kids clothes. So this week we scooped up a few outfits that matched together. *excuse the grainy photo
MM's wardrobe is growing lately for summer. We are finding lovely dresses for our upcoming two months in America. These two dresses are from Little Chickie an online baby boutique. I love their dresses on her. They wash amazing and are made of light fabric so in the hot USA summers she will stay cool and comfortable. These two are my absolute favorites and from the look on MM 's face you can see she loves them too. Girls clothes are easier to buy and pick out because dresses can be paired with cardigans and tights on colder days. I love that she can wear these for any weather. She also loves to button her cardigan all the way up and make it look like a sweater and skirt too. I posted a photo of her on my instagram of it. She is turning into a clothes diva, and lucky for me she is good at matching and coordinating her outfits.
I love playing dress up whether it's new outfits for MM or when we are playing dress up and matching both of our outfits together. I love that we are at that stage where it is still ok to match me and be a mini me. I am taking in every second of it as I know it won't last long.
Made
I am back in the kitchen. I have been taking a little break from my baking, mostly because I was gaining entirely too much weight. I was feeling sluggish and tired a lot and I think that was due to my diet and lack of exercise. So I am back in the kitchen but it's going to be healthy and better options that I am sharing for awhile. I will have the odd goody in there too but I am on a "eating cleaner" path for myself and my family. I don't want my kids to eat unhealthy so why was I? I am trying to do better by leading by example. Here is a new favorite of ours for outside dining, Cumin Grilled Chicken & Chickpea Salsa we loved it this week. I was surprised how much the kids did too.
And lastly…
It's no secret we have had a few vacations this year already. It's been a special year as we normally don't travel this much. We are lucky to have good friends that live in France and Spain so while it sounds like we are spending a fortune on holidays we are staying with friends so really it's just watching for cheap flight deals. We are traveling more than usual this year because MM will soon be 2 years old and need her own seat and B will be in school so we will be restricted to school holiday times.
Traveling with children isn't as hard as you think. I have traveled across to the west coast of America with both my toddlers in tow a few times to recommend just be prepared and its easy. Last week, we were in the South of France. We stayed with friends so had to think about how the kids were going to sleep as they have never slept in a bed with us. MM is still in a cot at home so we had our friends borrow a travel cot for her to sleep in. For B, he got to have this super cool travel ready bed. I wasn't sure what to expect when I first heard about these ready beds but we were soon impressed. This one came in a small backpack that B just wore on the plane ride over. It was so light even MM could carry it on her back. It came with it's own little pump inside and has an attached quilt so you don't have anything extra to pack when traveling.
Keeping your luggage light and packing less is always a bonus to traveling with children. Having this Worlds Apart ReadyBed really made our sleeping arrangements easy and not having to pack extra blankets was a bonus. I love that it was easy to pump up and easy to roll up and put back in it's backpack case. The kids loved packing their bed around. It was longer than I expected it to be. I thought it would only fit MM in it but Buba fit comfortably. We only realized there was a side pocket for the kids ipad, the second day. Overall, I won't be traveling without our readybed. No more worrying about sleeping arrangements and when MM gets into a big girl bed she will have one too.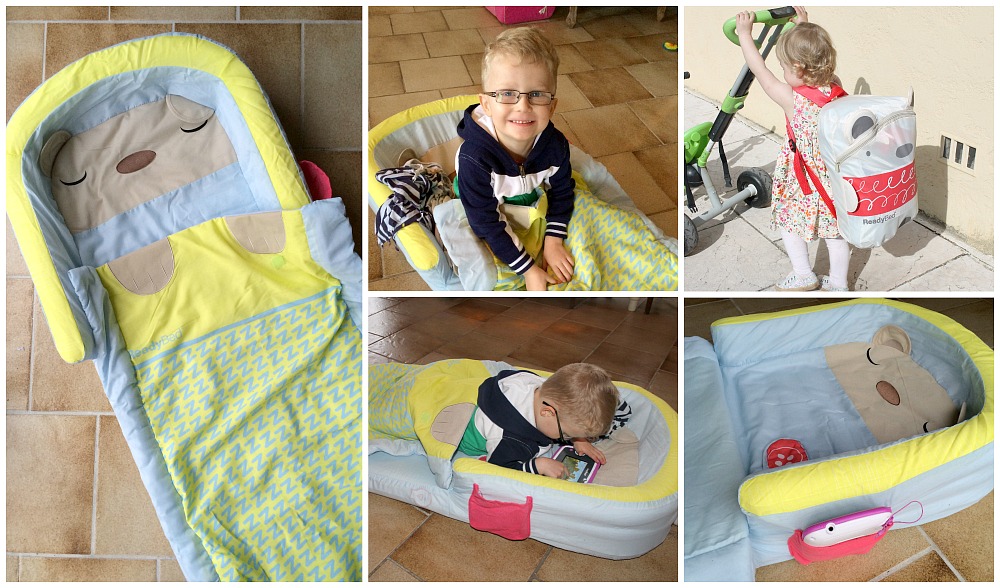 It's been a busy week and we are preparing for our lives to stay busy until the end of the summer. I can't wait to share all of it with you from state side.
Linking up to Butwhymummywhy for #littleloves