Off to France for a childfree weekend. Eeek! While you read this I am flying to France with just hubby for our friend's birthday. We have never flew without the kids and left them overnight with my mother in law so while I am a little nervous to be leaving her with bubble boy, I am truly excited to have some adult time and city sightseeing. Holidays are definitely different when you have children. I love them, the children and the holidays with them. But it's a different experience when you can stay up late, shop until you drop, drink cocktails worry free, go dancing, and sightseeing for fun photos. I can't wait! The weather looks perfect.
We have the kid's weekend planned out and packed so that it goes smoothly and fast for Granny. She is a star for taking on my two for a whole weekend. We owe her one big time. I know it will fly by. I attempted to go shopping to find some fun last minute summer outfits to annoy hubby to take my photo on the streets of Cannes. hahaha Let's see how good that goes down. Will let you know!
It was a busy but slow week. Don't know if I have ever said those two things in the same sentence. I had things to do but I am learning to take my time and not rush things like I used to. Mostly out of a new habit to prevent dizziness but as that is easing off, finally. I get more normal days and I am mindful not to go back to my rushing, crazy days of cramming and running around headless. I hope it long continues. The kids have been a bit weepy this week. I blame exhaustion and are looking forward to Halloween Half Term coming up. Sadly, it's the first year they didn't pick a matching outfit for their costume, as hard as it was for me not to convince them to do a duo costume I let them freely pick what they wanted. My three years of duo costumes has come to an end.
THIS WEEK I AM LOVING…
I finished The Keeper of Lost Things which was a lovely read. A few good twists and surprises in the end. I found it hard to get into but once I did was fine. I picked up a quick one from Tesco while I was shopping called Arrowood. I believe it's a crime thriller always good for a beach read or on the plane for France this weekend. It's a smaller book so I thought I would finish it on my childfree weekend. Will let you know what I think of it next week!
This one is a tough one for me this week, I haven't listen to any music which is rare for me, I have no news to announce, I am sure you all are sick of me begging for you to join my new linky Snapshots & Scenes each week too. Perhaps you didn't hear about my Halloween Cocktail giveaway enter here if you dare!
We keep getting little peaks of sunshine in between down pour rain. The weather has been fun to watch this week. That wasn't a cop out for this section with watching the weather by the way. I have been using those peaks of sunshine to get out in the garden with the kids. We have absolutely loved our new outdoor living space, it's been the best extension to our home. I watched the kids playing make believe with their new dotcomgiftshop sets. They called it "Moms & Dads" and I have heard the kids playing it at school on the playground. I think it's so cute that they like to play, Moms and Dads although watching MM's reenactment of me what horrifying. Do I really sound like my mother? Do you watch your kid's pretend to be you? Any enlightenment on yourself as a parent?

I am loving this Silk Blazer from River Island for Fall. While it looks quite summery here as a few pointed out on my instagram snap this week, I pair it with a long lacey white sleeve shirt it's plenty warm for Autumn. The beauty about this silk blazer it's really thick so you actually get really warm in it quickly. I love that it is longer over my bum than cut at the waist like most of my blazers. It has burgundy and burnt orange floral details on it, I call that Autumny! I can't branch away from my pastel pink and pastel love though. No matter the season! I did wear it the other day with my burgundy skinny jeans and it looked so lovely. I am not ready for winter people hold off sharing those winter layers.
Possibly cheating for this week, I haven't been in the kitchen food styling this week. Don't work got some yummy treats for Halloween coming up next week however I did make an effort to pack for holiday this week. By that I mean, I planned my outfits out for each day and what we were going to be doing. I have never done that before. Normally, I count how many days we are gone and add one more outfit to the suitcase never trying them on together or seeing what would be best for what we are doing. It's not always gone to plan. I have been on some holidays stuck freezing or hot and uncomfortable with the wrong attire. Since it's only a quick weekend getaway I really enjoyed trying to put together pieces for traveling there, dinner out, birthday party, beach day, and brunch Sunday before we go. This one below is a cozy number with flowy blouse tucked into geometric shorts and a tassel lace kimono over top as it's supposed to be warm but not hot and comfortable pointy shoes. I am wearing this one Saturday morning to stroll through the streets of Cannes for some shopping before we hit the birthday beach bash.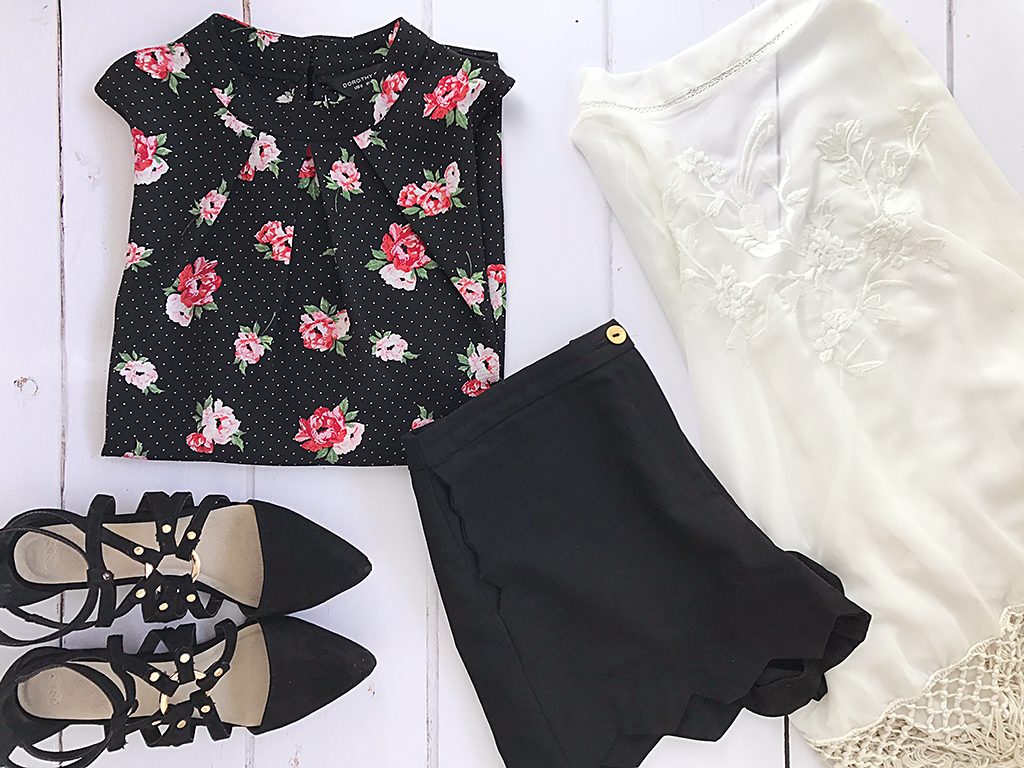 Loving everyone's Autumn captures on instagram #lifecloseup this week. There are instagrammers from all over the world joining in my little hashtag. It's great because there is a constant stream of every season as it might still be hot across the world in the Fall and the various styles are unique and fun to see. Click below to check out these amazing instagrammer's feeds featured this week and come join us in sharing your life on zoom.
Joining in with Coffee Work Sleep Repeat for #littleloves linky.